A meeting of the Guyana Elections Commission which was expected to accept and address a final report on the elections was discontinued this afternoon following the filing of Court action that seeks to prevent the Commission from using the votes from the final recount as the basis for a final declaration.
Chief Justice Roxanne George has set Wednesday morning for the first hearing of the matter which was filed by a private citizen through Attorney Mayo Robertson.
Commissioner Vincent Alexander and Charles Corbin told reporters this afternoon that they were first informed of the Court action by the Chair of the Elections Commission.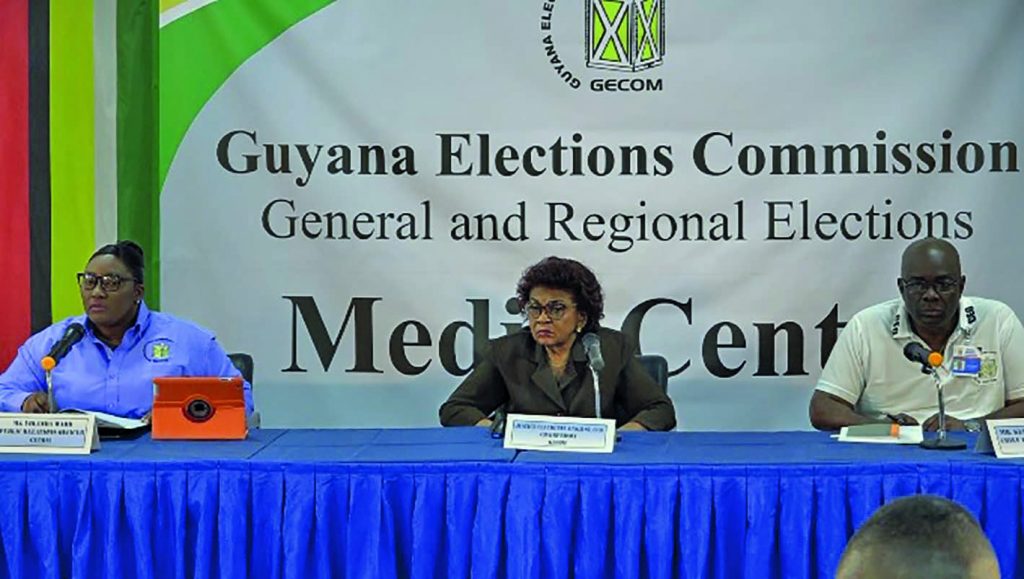 When today's meeting got underway, it was pointed out to the Chair that it has been her practice since she took office that once matters are before the Court, the Commission would not proceed with its planned meetings.
Commissioner Alexander said the Commission has since been informed that the matter will be heard by the Chief Justice tomorrow and the Commissioners are now awaiting guidance from the Chair about the next meeting.
Questioned about whether the Chief Election Officer provided his final report, Mr. Alexander said he is unaware of that being done although the Chief Election Officer was present at the meeting.
Commissioner Sase Gunraj in a separate interview with the media said there was no precedence set for how GECOM should deal with meetings once the matter is before the Court. He said he has seen the Court action and there was no injunction granted or any order that prevented the meeting from taking place.
Gunraj said it was the Government nominated Commissioners who walked out of the meeting after raising their points. He said the CEO never answered the PPP nominated Commissioners about whether he had completed his report and he also walked out of the meeting just after, bringing the meeting to an end.
The Elections Commission, the GECOM Chairman, the Chief Election Officer and the Attorney General have all been named in the Court action which questions the decision of the GECOM Chair to set aside the March 13 declarations by the Returning Officers and replace those with the tabulated results from the recount.
The applicant's contention is that the GECOM Chair may have acted outside of the Constitution by her actions and her request for the final report to contain the recount figures since those were not filed by Returning Officers.