Guyana's capital city of Georgetown has no reliable fire hydrant that could assist the Guyana Fire Service in its fire fighting efforts. That grim reality is according to Fire Chief Marlon Gentle.
In an interview with News Source this afternoon, the Fire Chief explained that fire hydrants across Georgetown have either been vandalized beyond repair and never replaced or do not provide any "real pressure" of water that could support fire fighting.
He said the problem is one that has dogged the Guyana Fire Service for years and despite many pleas to have the problem addressed, it remains one of the biggest problems facing the fire service.
Fire Chief Gentle told News Source that no one is taking responsibility for the maintenance of the fire hydrants either. He said when the Georgetown Sewage and Water Commissioners existed, that body took responsibility for the maintenance and care of fire hydrants. However, when GS&WC was replaced by the Guyana Water Incorporated, the new body made it clear that it is not legally bound to take care of hydrants.
The Georgetown City Council which was also believed to hold some responsibility also distanced itself from taking care of the fire hydrants.
Mr. Gentle explained that the problem of inoperable fire hydrants has forced the Fire Service to always utilize the use of water tankers to assist in its fire fighting efforts. He said going to and from the scene of a fire takes time, and with Georgetown's many narrow streets, traversing the streets with over 3000 gallons of water in the tanker also takes time and caution.
The Fire Chief also pointed out that while 3000 gallons of water may sound like a lot, if there is a big fire that needs aggressive tackling, that amount of water could run out in a few minutes.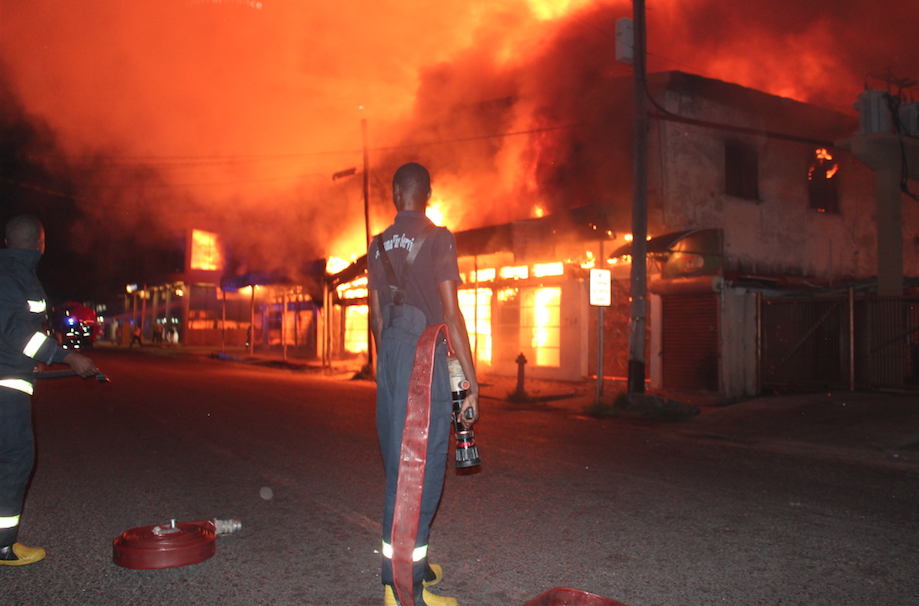 "What we have to do is be running to and from the scene to get water and when there is a big fire, by the time you get back, it is mass games all over again".
The Fire Chief said he hopes that the problem will now be tackled and not ignored as has been the case in the past.
Sunday morning's fire in the busy Robb and Camp Streets area which completely gutted a number of businesses in two buildings has underscored the need for the administration to seriously address the problem of inoperable fire hydrants in the nation's capital city.
Firemen were forced to leave the scene of the fire on several occasions to source water from trenches and canals nearby as the three hydrants closest to the blaze, are all not working.