It was a busy week in the maternity ward at the Georgetown Public Hospital as Doctors and Nurses joined parents in welcoming the births of  one set of triplets and three sets of twins in the same week.
Twenty-six-year-old Mandisa McKinnon is now the proud mother of three boys, all born on Friday, July 6. Dejuan, Demitri and Dekarri were all delivered via cesarean section in the early hours of Friday morning.
The mother of the triplets said that this was her first pregnancy. Delroy George, the father of the triplets, was overjoyed as he is a first-time father.
This is the first set of triplets born at the GPHC since 2012 according to the hospital's Chief Executive Officer, George Lewis.
Minister of Public Health, Volda Lawrence was among the first group of visitors to mother and babies and she shared her excitement with the family.
"Since I got the news, I was so excited and so happy, I couldn't wait to get down here and meet these boys."
Minister Lawrence, along with elated GPHC staff and other well-wishers, delivered hampers to the family. She also assured the new parents that they will receive assistance not only from her ministry but also from the Ministry of Social Protection, which is headed by Minister Amna Ally, who also had an opportunity to meet the mother via the telephone.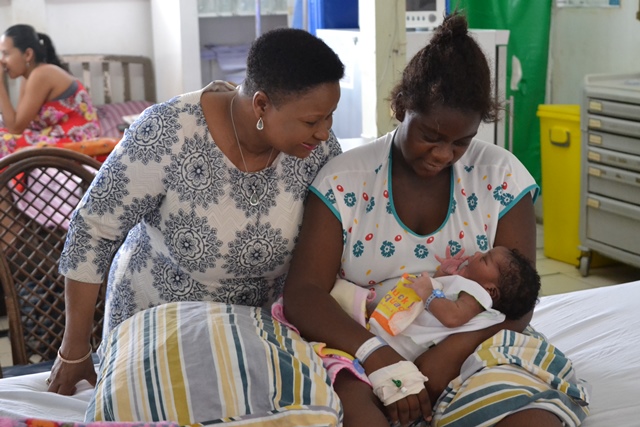 Further, Minister Lawrence encouraged the family to apply for a house lot and assured that such would be easily accessed. This, she said, will form part of the government's commitment to the well-being of the newborn babies.
One of the triplets was receiving special medical attention at the hospital's neonatal intensive care unit while the other two slept peacefully in the maternity ward's nursery.
Meanwhile, there were three sets of twins also resting at the GPHC. Shequita Michael gave birth to twins; a boy and girl on June 29, Nandranie Sampran gave birth to twin girls and Lashanna Murray also had twin girls on July 7, 2018.
All deliveries were done via cesarean section. Minister Lawrence took the opportunity, while at the hospital, to visit all other babies and their mothers at the post-natal unit of the GPHC.