The President of Ghana Nana Akufo-Addo has urged Guyana to mindful of how it exploits its oil and gas resources and has warned of the consequences if the sector is not properly managed by those entrusted with its management.
During the opening of the International Energy Conference this morning, the Ghanian Leader urged Guyana's Government to effect proper management of the oil and gas revenue and ensure transparency and equity for the benefit of all citizens.
He said careful thought must be given to the social, environmental, and economic benefits of the sector as it changes continually.
"No matter how high, its return on value is not worth it if the interest of some or majority of the stakeholders are not properly represented and they are left impoverished and dissatisfied," the Ghanaian President said.
Based on Ghana's experience, the President urged that Guyana's oil resources be used for nationwide industrial development and to pursue ambitious resource management policies based on environmental and other considerations.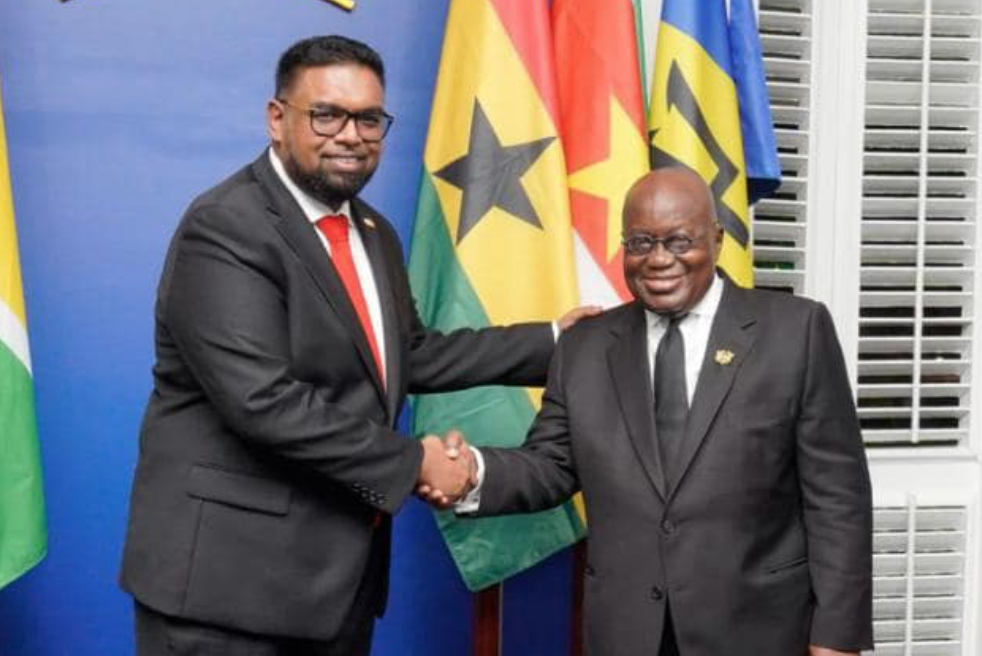 "Ensure that the petroleum sector becomes a cutting edge industry with a strong focus on health, safety, and environment at all levels of the industry. Encourage investments along the oil and gas supply chain through incentivization and practical regulation," the President urged.
He said while partnering with international companies is good, the country should maximize oil resources by using local services, people, and companies in all areas of the value chain to retain the benefits.
The President of Ghana also said while the oil and gas sector brings prosperity, the environmental questions must not be left unanswered.
"Minimize the flaring of venting of natural gas and develop a viable domestic petrochemical industry based on Natural gas," the President of Ghana said.
He also encouraged the Diversification of the electricity sector through the development of renewable energy.
This is the second visit to Guyana by the President of Ghana. He made his first visit in 2019 under the previous government. Since then, under the previous and current Guyana governments, efforts have been made to deepen ties between Ghana and Guyana, with a specific focus on the energy and oil and gas sectors.
Ghana started oil production more than a decade ago.