An early morning fire that engulfed a two-storey house in Nabacalis/Golden Grove area has claimed the life of man, who was believed to be in his late 30's.
The deceased has been identified as Sean Prince of Prince Shipping.
Firefighters were called to battle the blaze just after 1:00 am along the Sideline Dam, which separates the two villages.
Neighbours rushed from their beds and later discovered that Prince had perished in the in the fire.
One neighbour  was able to gain access to the property before cordons were set up and he said the dead man appeared trapped some 20 feet from the door.
Friends of the now deceased claimed that they made several calls to his phone but all went unanswered.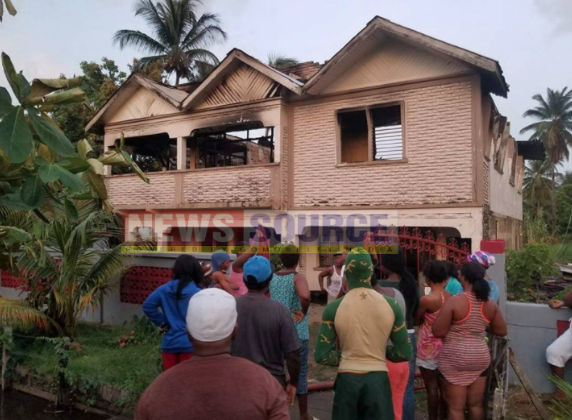 Prince was seen in the company of some of his friends just before headed home to retire to bed.
Neighbours said they were alerted to screams coming from the man's house and noticed the fire just after. 
Prince lived in the upper flat of the building. A relative who resided in the lower flat of the same building recently moved.
The cause of the fire is yet to be determined.
Police investigators are currently at the scene carrying out their investigations as firefighters continue their mopping up work. Prince leaves to mourn a young daughter.