The Government came up against a flood of criticism over its move to amend the Anti Money Laundering and Countering the Financing of Terrorism Act when the Bill was read for a second time in the National Assembly on Friday.
Although the amendments are geared towards making Guyana compliant and ensuring the country satisfies its international obligations, the Parliamentary Opposition raised concerns over several of the changes.
Opposition MP Juan Edghill opened the debate for the Opposition and argued that the government was trying to undo what it had put in place against the advice of the People's Progressive Party.
The government in its Amendment Bill is replacing the 25-member AML/CFT Authority with a Committee, although it was the Government that passed legislation to give life to the authority.
Edghill challenged Attorney General Basil Williams' reasoning that the move was seeking to strengthen the authority by replacing it with a committee.
In turn, Mr. Edghill asked how this was the case when the Committee shall have the Attorney General as its Chair and when the Authority would have appointed 10 persons who were selected through a Parliamentary process.
Also on the Committee, key office holders who were include on the Authority were now left out. They include, the Commissioner of Police and the Solicitor General among others.
Edghill argued that the new structure allows for political interference
"Is this government confused. It is a case where they are indecisive or not sure?" he questioned while accusing the government of putting in place an authority that was not required and did not make Guyana compliant with CFATF.
"You put Guyana in harms way by putting this in law in place and it is time you stop bamboozling the people of Guyana, we have had enough of it, Edghill said.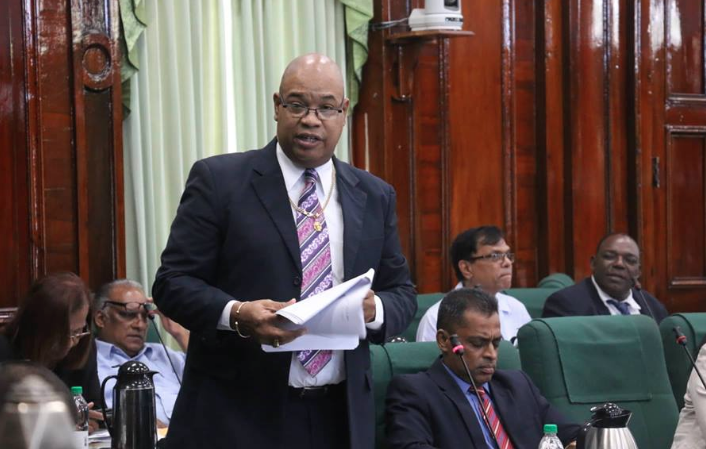 He was also critical that Committee members which will include the Attorney General, Director of Public Prosecutions, Commissioner General of the GRA, Head of the Financial Intelligence Unit, General Manager of the Guyana Gold Board and Chair of the Gaming Authority were exempt from paying any taxes.
"Even though you will use your majority and pass the Bill the truth must be made known," Edghill told the government.
He was also critical of political involvement in the freezing of assets of listed persons with the Minister chairing the Committee.
Edghill said too that the government should apologize to Guyanese for what he said was undue suffering caused to them as result of actions taken by the APNU and AFC when the PPP was trying to get the AML/CFT legislation passed.
According to Attorney General Basil Williams, The Anti-Money Laundering and Countering the Financing of Terrorism (Amendment) Bill 2018 seeks to amend the Anti-Money Laundering and Countering the Financing of Terrorism Act, Cap 10:11, and related legislation to strengthen the regime for combatting money laundering, terrorist financing and proliferation financing.