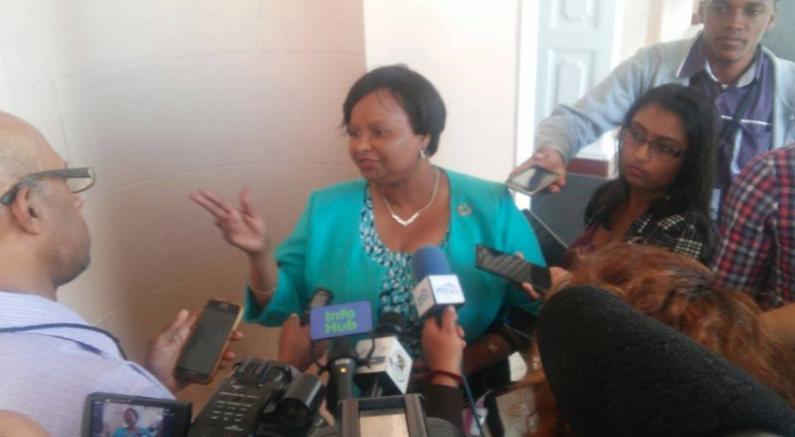 The Government on Thursday pushed back against critics of the recently passed Tobacco Control Bill and indicated no willingness to reconsider the Bill or have it sent to a select committee before the President gives his assent.
The Demerara Tobacco Company has called on President David Granger to reconsider the regulations within the piece of legislation before offering his assent.
The company is calling on the President to send the Bill to a select committee so that it can be properly analyzed and reviewed to minimize the impact of the measures, not only for the industry but also for citizens.
But on Thursday, Health Minister Volda Lawrence, told the media that the government maintains its constitutional right to ensure the health of the nation.
She said cancer remains the number two cause of deaths in Guyana and tobacco agents are a major contributor to this.
Lawrence said it costs the government more to care for citizens who become sick as a result of tobacco consumption than the revenue the sale of these products contribute to the economy.
The Demerara Tobacco Company has claimed that it contributed $4 billion in revenue to the economy in 2016 from the sale of cigarettes.
But the Minister is not bothered by that figure and said that "We don't want to have a weak workforce. We want to have healthy people, that's what we want," she said.
The Minister was clear that there is no attempt to stop the sale of cigarettes or to ban smoking but control mechanisms must be put in place to ensure people do not die from second-hand smoke.
Lawrence also clarified that there will not be the sale of tobacco products at health, educational, sporting and government facilities.
She said street side vending of tobacco products will continue.
The Bill was passed in the National Assembly by a majority vote from the government on July 27th, 2017.
Since then tobacco companies and retailers have rejected several clauses in the Bill which it fears will in essence ban smoking. (by Kurt Campbell)