The Clerk of the National Assembly, Sherlock Isaacs, has dismissed as false a front page report in the Stabroek News today, which states that the housing allowance for Government Ministers has been increased to $500,000 per month.
In a telephone interview with News Source from his office at Parliament Buildings, the Clerk explained that Government Ministers are still being paid a $25,000 per month housing allowance. He said that is covered in the law and that has been the same for several years.  He pointed to Chapter 1:07 Section 4 of the Laws of Guyana.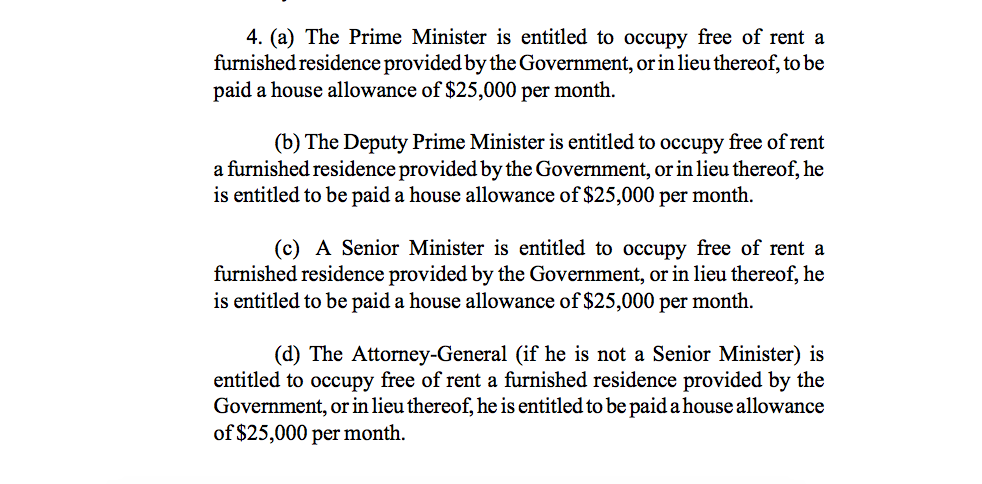 According to the Clerk, the law specifies that Ministers be provided with a furnished house by the government, but if that is not provided, then they be presented with the $25,000 allowance.  Mr. Isaacs said as it is now, the Parliament office only rents properties in Georgetown for Ministers Simona Broomes and Valerie Patterson, who are both from out of town.
He said with housing not being available for them, properties were rented but were not allowed to go beyond a $500,000 per month cap.  He said no Minister is given any additional $500,000 to their salary.
"There are Ministers who still live in their own homes and they are presented with the housing allowance of $25,000.  No one gets any additional $500,000 on their salary. That is not so. It is wrong, no one is given any $500,000 for housing", he said.
The Clerk said he has been trying to reach out to the Stabroek News reporter who spoke to him about the story, since it is clear that she may have misunderstood what was said to her.
Finance Minister Winston Jordan also confirmed to News Source this morning that the housing allowance for Ministers still remain at $25,000 per month. He said the $500,000 rental cap would be for those Ministers who are from out of town or those who do not reside in their own home.
The issue over rental of properties for Government Ministers recently surfaced when PPP Candidate and businessman Peter Ramsaroop, filed legal action against the Parliament over rental of his property when Minister Simona Broomes opted to no longer live in the property that was rented by the Parliament office for her.
In addition to several complaints about the property, the Minister reportedly raised concern that although the entire house was being rented, there were rooms in the house that she had no access to. She reportedly conducted a full security sweep of the property during the months that she lived there.
A few years ago the same businessman, Peter Ramsaroop had found himself in the headlines after one of his tenants accused him of having hidden cameras placed in her bedroom and other areas of her house. At the time, the young lady was friends with former President Bharrat Jagdeo, and Ramsaroop was a fierce critic of Jagdeo and the PPP at the time.  He would later move on to support the PPP at the 2015 elections.