Scores of workers attached to the Guyana Power and Light company (GPL) used their lunch break today to protest outside the company's Main Street headquarters, calling for their salary increase issue to be resolved.
The GPL workers are represented by the National Association of Agricultural, Commercial & Industrial Employees, (NAACIE).
According to the Union's General Secretary, Dawchan Nagasar, in 2020 GPL made a proposal to the union for a three-year package for the power company workers.
In that package, GPL offered a 5% increase for each of the three years.
The General Secretary explained that after the government changed, GPL asked for the negotiations to pause, given managerial changes at the company.
He said that after several attempts, the negotiations resumed and several matters were agreed upon, except the union's proposal for an across-the-board increase as well as an appraisal increase.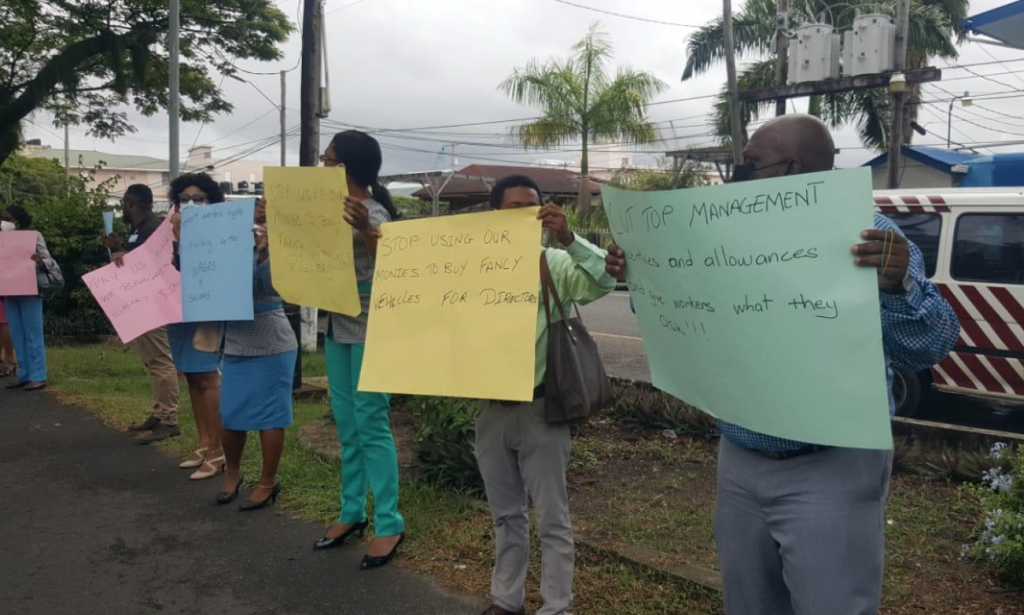 "Now on the 22nd of March the company asked that we give them a new proposal concerning these two clauses. The workers and the union discussed it and we presented a new proposal for the three years. The company representative at that time said that they will take it up to management who has to take it to the stakeholders. Since then we have not heard any word from them concerning these two clauses," the union's General Secretary explained.
The Union has asked GPL for a 5% increase for 2020, 7% for 2021 and 9% for 2022. GPL has made no new offer to its original proposal.
"We are hoping to get the Prime Minister involved, we will like him to get involved in this matter so that it could be resolved as soon as possible. The workers started here today and they are discussing that it could be at different locations at different dates and they will continue the protest until the matter is resolved," Mr. Nagasar said.
The Union representative said although the union's proposal is 5, 7 &9 % they are prepared to go to the bargaining table with GPL.