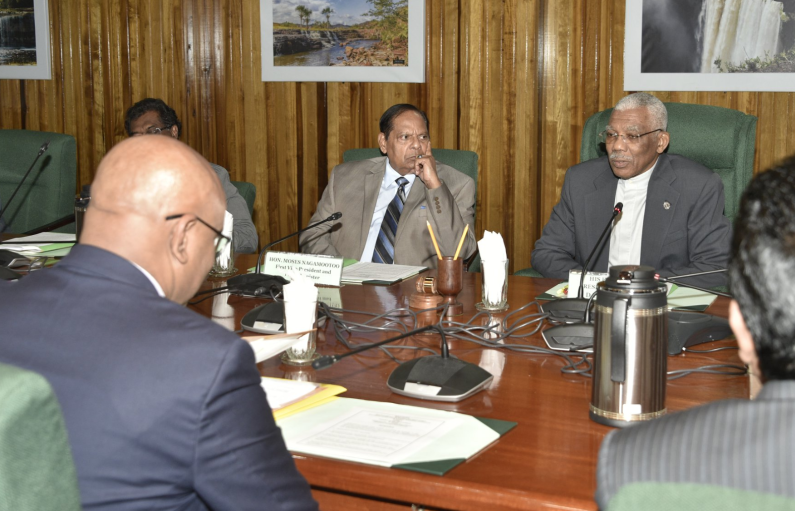 A meeting between President David Granger and Opposition Leader Bharrat Jagdeo was described as "fruitful" as the two sides start the process for the appointment of a new Chairman of the Guyana Elections Commission.
The two leaders were accompanied by other representatives of the Government and Opposition at the Ministry of the Presidency meeting this afternoon.
They have agreed to have a meeting between a smaller grouping to hammer out and come up with the names that should be nominated for the GECOM Chairman position.
President David Granger said the meeting focused "on the means to be adopted" for the submission of nominees and the appointment of the new GECOM Chairman.
"We feel that unless and until a Chairman is appointed, the work of the Commission will not be able to move ahead as quickly as possible", President Granger said.
He noted that the Government maintains that there must be credible elections.
The Opposition Leader Bharrat Jagdeo told the media that he is still not averse to the President suggesting nominees for his list.
He, however, noted that he will first look at the 18 nominees previously submitted and some of the same previously rejected persons might be resubmitted.
Mr. Jagdeo said the meeting did not address any other major issue but the two sides are also looking at their concerns about the voters' list.
The Government maintains that it believes house-to-house registration should be conducted before elections, while the opposition believes the old voters' list should be used.
The two sides have indicated that they intend to wrap up the issue with regards to the GECOM Chairman within a matter of days.