There appears to be a deliberate attempt ongoing to vandalize telephone cables in several communities and the Guyana Telephone and Telegraph Company is taking the matter very seriously.
On Friday afternoon, GT&T discovered that a 600 pair cable was vandalized in the Middle Road area and that problem affected over 200 customers.
In statement on Friday, the company said that in recent months, the national telecommunications network has been repeatedly vandalized.
"This deliberate, mindless destruction of, or damage to, the country's telecommunications facilities is not new. But, in recent months it has spiraled out of control.  For the year to date, we have recorded 52 acts of vandalism in communities from East Berbice to Linden."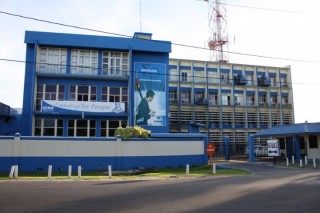 The telephone company said the "deliberate vandalism" has resulted in the disruption of the lives and livelihoods of thousands of households and businesses.
Additionally, with phone lines and internet services being down because of the repeated vandalism, there is now the threat posed to personal and national security, the unplanned expenditure of millions of dollars by the company in civil works, repairs and service restoration, the diversion of materials and personnel from routine activities to address emergencies and the loss of millions in revenues consequent upon the cessation of telecommunications traffic.
"This state of affairs is unacceptable and unsustainable. And, insofar as network vandalism affects all of us, all of us must participate in this scourge. We have done everything in our power to protect the network and in the process we have received continued support from the Guyana Police Force", GT&T said.
The telephone company which still has a monopoly on landline services said it now needs the support of the Government, the regulatory agencies and the entire populace.
GT&T is appealing to individuals and institutions to partner with them in the protection of the national telecommunications network.
"Observe what is happening in your neighbourhood or community; call us on 0908 to report suspicious activities directed at the network; in short, act as our eyes and ears."
The company has assured that reports and the provision of information will be treated with the strictest confidence and that "GT&T will offer a meaningful reward to anyone who provides information that leads to the apprehension of vandals and their prosecution".