With the Government holding firm to ensuring a liberalised telecommunications sector by the end of this year, local telecommunications giant, GTT, says it is ready to embrace a liberalised environment.
The company's Chief Executive Officer, Justin Nedd, hosted a press conference this morning and said the process is moving forward and GTT is prepared for the eventualities.
"We are ready to sit with the Government at anytime and we continue to provide any documents that they request. It was only last week that we sent them a tranche of documents that could help them come to some necessary position, its an ongoing discussion", he said, as he explained that the negotiations for GTT to move away from its "monopoly on paper" are ongoing.
Questioned about a timeframe for the end of those negotiations, he said it would be "foolhardy" to give such a timeframe since GTT is just one party to the negotiations.
He said the discussions so far with the Government have been fruitful on the issue, adding that while it is out there that GTT holds exclusivity on providing internet and international calling services, it should also be out there that GTT is not the only company providing the services.
"The reality is that we have got on paper, the exclusivity for international long distance. We are not the only one providing international long distance services.  We've got exclusivity on providing internet and data services, and we are not the one that provides it, we have got the exclusivity to provide landline services, well we are the only ones who still provide it and I would hazard a guess thats because it is not economically attractive for others to provide it", the CEO said.
Mr. Nedd said as it is now, GTT already operates in a competitive space, so therefore it would have no major concerns about liberalisation, since "what liberalisation would do in my belief, is level the playing field where we all either pay 45% taxes and adhere by the same regulatory rules and I like our chances.".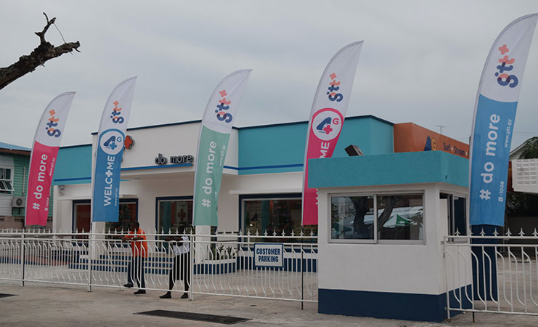 He said he believes GTT's "awesome team" is ready for what the opening of the market will bring. He told reporters that he knows the company is not perfect with the provision of its services and it is making moves to ensure its various services are improved across the country.
As it is now, he explained that efforts are being made to improve the DSL service which has been experiencing some problems, even as the super fast, Blaze internet service is in high demand.
On the issue of the provision of landline services, Mr. Nedd said his company is still involved in that business although the rest of the world is gradually moving away from landline as more and more persons depend on their mobile phones.
The company today reported that its systems have been improving over the past year with downtime reducing greatly and more efforts being made to improve customer service.