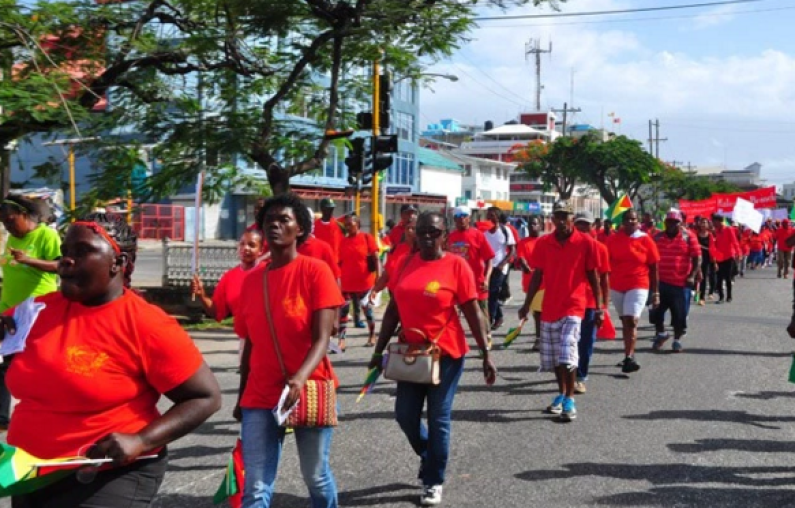 The umbrella trade union body in Guyana, the Guyana Trades Union Congress has blasted Minister within the Ministry of Social Protection Keith Scott, over reports that he had consulted with a number of trade unions and an agreement was reached that there will be one united Labour Day rally on May 1.
The  GTUC in a statement made it clear that it was never part of any such consultation.
"Consultation does not constitute entertaining and running with any idea that requires the support of another and arbitrarily making and issuing decision on behalf of the other. This pattern of behaviour must be brought to be an end in public engagement or this nation will continue to lurch from one problem to another, with none being solved, and resulting in increased tension and polarisation", the union said.
According to the GTUC, "time-honoured principles and laws guiding engagement are public and accessible. GTUC calls on the Minister to abide by these. "
The GTUC said it had no consultation with the Minister on the issue of May Day and "in fact, GTUC never had any consultation with the minister, on any issue, since he assumed the portfolio."
The governing union body said that it dispatched a letter to the minister on 8th January 2016 requesting engagement with him to discuss matters of importance to workers and that of mutual interest of the government and the trade union.
"At the minister's invitation for a meeting with the GTUC on 12th January 2016 a delegation attended.  At this one and only meeting the minister made it known the meeting was called to introduce and acquaint himself. The GTUC took the opportunity to raise issues pertinent to the Labour Movement and workers and was advised by the minister the meeting was not for such purpose", the release said.
The trade union body said it remains committed to meeting with the minister to pursue serious conversations in furtherance of the workers' agenda and the role and responsibilities of his ministry.
"There are burning issues affecting workers (organised and unorganised). Teachers, government, bauxite, forestry and sugar workers in the private and sectors have pressing grievances Minister Scott is aware of and it is still to be seen what effort, if any, is being made to resolve them. Government is urged to take its cue from workers' agitation and rumblings", the GTUC statement said. 
The release further added that the government's notion of a unified May Day Rally in the absence of ensuring the workers' rights are upheld and laws respected "would make a mockery of such pursuit".
The Ministry of Social Protection earlier this week announced that following consultations, an agreement was reached that there would be one united May Day rally.   Over the years, separate rallies have been held by different trade unions.