As the date moves closer towards the International Climate Change Conference COP-26, Guyana is expected to go to the conference with a united front with other developing nations, in an effort to get the developed countries to honor their obligations to the Paris Climate Change Accord.
President Irfaan announced today that CARICOM and other regional organisations will stand together at the summit with one collective voice.
"Almost all the Leaders are going to represent their interest, but in CARICOM we have had many meetings on coordinating our efforts. We are working with CARICOM, the Alliance of Small Island States. (AOSIS) and we are working with (CELAC) Community of Latin American and the Caribbean States on a joint position and coordination", the President said.
The Paris Agreement sets out a global framework to avoid dangerous climate change by limiting global warming to well below 2°C and pursuing efforts to limit it to 1.5°C. It also aims to strengthen the ability of countries to deal with the impacts of climate change and support them in their efforts.
The Paris Agreement is the first-ever universal legally binding global climate change agreement, adopted at the Paris climate conference (COP21) in December 2015.
A total of 190 countries, including Guyana have signed on to the agreement.
The President said the developed nations have not been fulfilling their end of the agreement.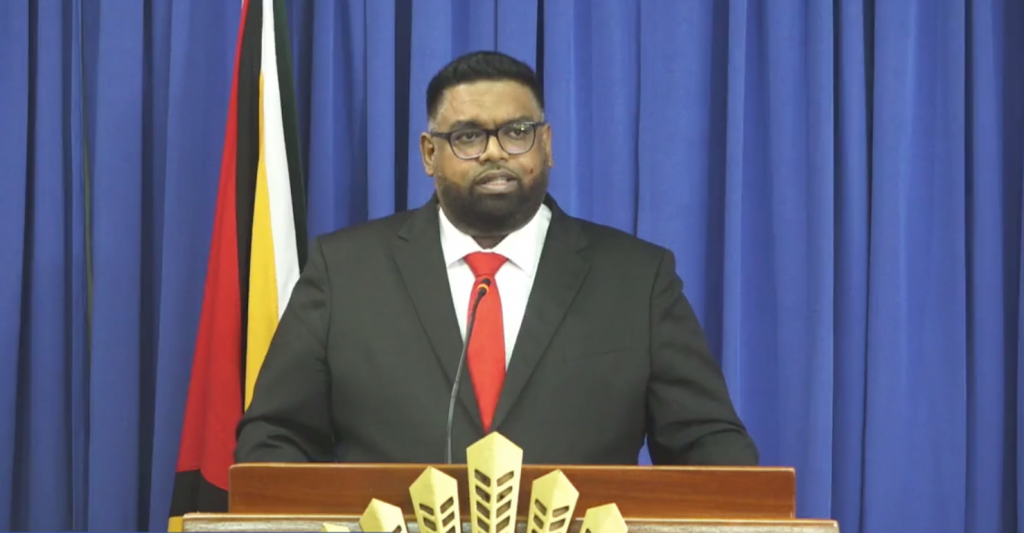 "At the Alliance for Small Island states Summit I called for a renewed global focus in the fight against climate change to meet the goals of the Paris agreement. Now many will say that it is a broken record calling for the developing world to meet their commitment in terms of the 100 Billion Dollars pledge and that we have been overworked and we are getting nowhere with that message. Well, we can compare with the democracy message, democracy is important; we have to keep talking about democracy where it does not exist but it's not overworked. We can't talk about new commitments on client's issues and climate change when we are not honoring the existing commitment of 100 billion" President Ali further noted.
The President also emphasized the importance of these funds that are critical in ensuring that the developing nations which are more vulnerable be funded to ensure they recover from the effects of climate change. 
"The Caribbean Small Island Developing State on the heels of COP 26, we call on leaders to share a particular focus on Climate Change and Disaster Risk Management access to concession financing, high level of indebtedness, Natural Disasters funds and graduated transition. Guyana supports the establishment of a voluntary fund to facilitate region disaster response"
The COP26 summit which will be held in November is expected to bring parties together to accelerate action towards the goals of the Paris Agreement and the United Nations Framework Convention on Climate Change.