Guyana and the United States have signed an Acquisition and Cross-Servicing Agreement.
The Agreement, which was signed by the Chief of Staff of the GDF and the Commander of the US Military's Southern Command, allows the exchange of goods and services of equal value to support future bilateral defence cooperation
It will facilitate mutual logistic support between the US and Guyana in the form of training, deployments, port calls, operations, and other cooperative efforts.
Chief of Staff of the GDF, Brigadier Godfrey Bess said the militaries of the two countries continue to enjoy good cooperation. He noted that Guyana is part of a region that is prone to natural hazards and man-made threats adding that while natural disasters have the potential to undermine security and stability, transnational threats remain constant.
"Terrorism, trafficking in narcotics, small arms and human trafficking. These transnational threats undermine the rule of law and corrupt our youth and institutions, they are a violent threat to national and regional security and stability. The smallness of the region's Defence Forces constrains their capacity to respond effectively and timely to natural disasters", the Chief of Staff said.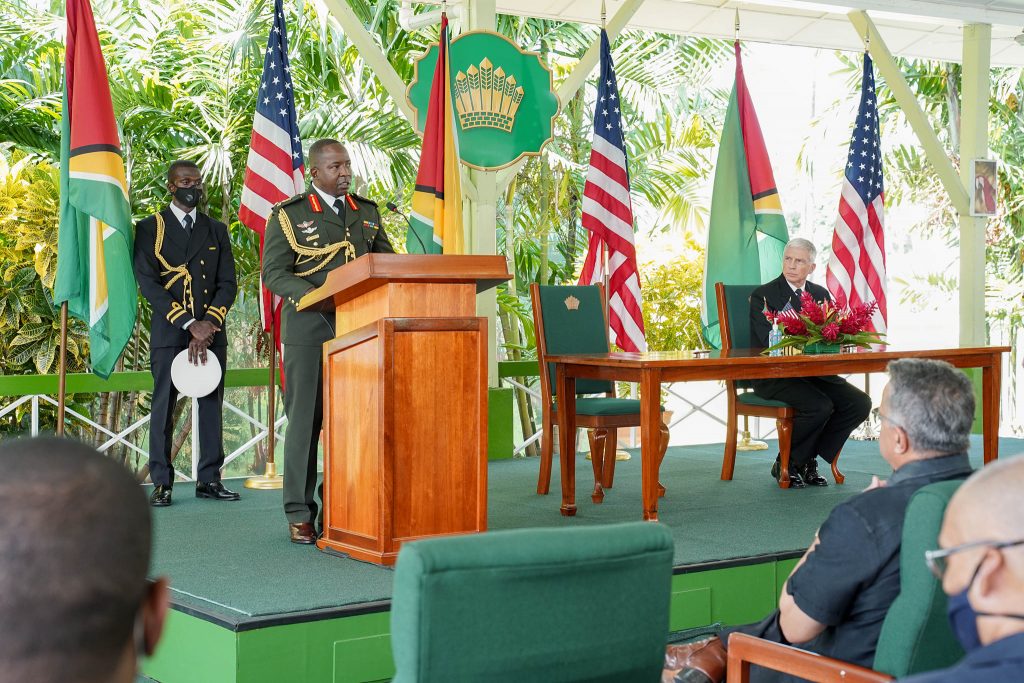 According to Brigadier Bess, the GDF looks forward to increasing Defence Cooperation as a means of improving the responsiveness to natural disasters and transnational criminal threats.
The signing of the agreement builds on a visit to Guyana by outgoing US Secretary of State Mike Pompeo in 2020 and reinforces the commitment of the United States to shared regional security according to Commander of the U.S Southern Command, Admiral Craig Faller.
"With this agreement, we are entering a new era of defense partnership. For over half a century our countries have built a bond of friendship in our military to military cooperation", he added.
This past weekend, the Guyana and US Coast Guards held their first joint patrol off the coast of Guyana to stamp out illegal fishing. Neighbouring Venezuela has objected to the patrols.
On the issue of the latest decree from the Venezuelan government claiming Guyana's land and maritime space, the US military Official said the focus at the moment is working on those areas that can enhance the bilateral relationship between Guyana and the US.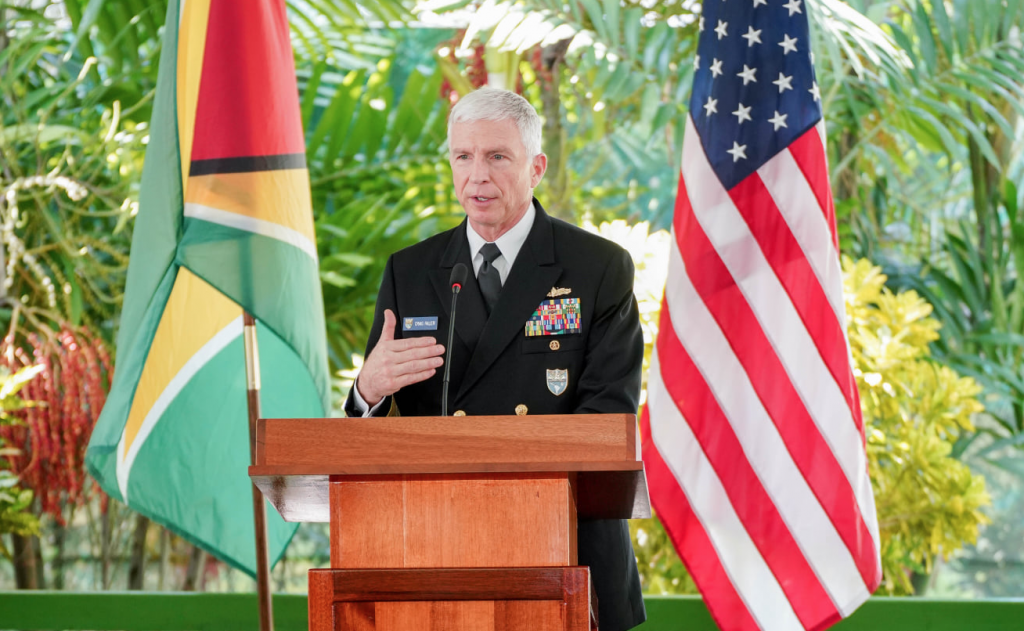 "Things that will strengthen, the security of the United States and Guyana, we start with education and training. That education and training covers a range of threats, educating our officers….its the most important thing we do…".
The Commander of the US Southern Command will leave Guyana tomorrow on the completion of his three-day visit. Last evening he met and had brief discussions with a government team headed by the President during a dinner at the US Ambassador's residence.