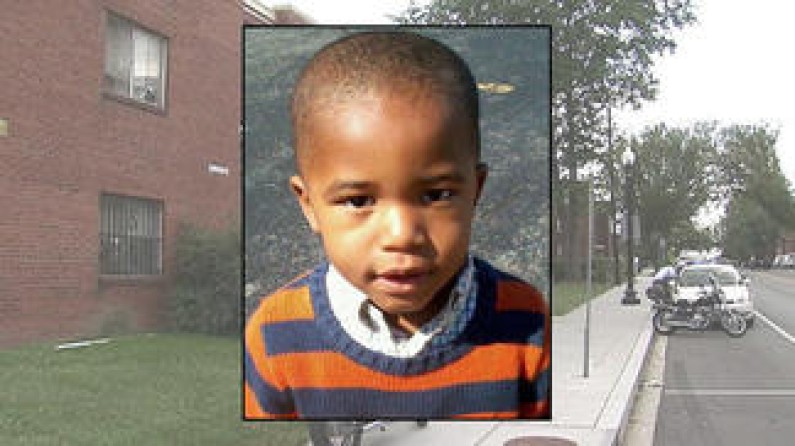 (Washington Post) A man upset when the 4-year-old boy he was babysitting rode his scooter on the wrong side of the street was charged Wednesday with beating the child, and police say he then went outside his Northeast Washington apartment to sell marijuana as the youngster died.
D.C. police made the allegation in court documents that charge Peter Ignatius Hendy III, 33, with felony murder in the death of his girlfriend's child, Kamari Zavon Taylor. According to the documents, the suspect told detectives that Kamari was a "smart-mouth kid."
A D.C. Superior Court judge ordered Hendy detained until an Aug. 30 preliminary hearing. His attorney with the D.C. Public Defender Service did not return a call seeking comment.
The boy's mother was not identified in court documents, and attempts to reach her were unsuccessful. On Tuesday, a police officer guarded the second-floor apartment, which had been sealed by authorities, in the 5600 block of Nannie Helen Burroughs Avenue.
Neighbors declined to comment.
The charges offered new details in the case, which had been a mystery since Kamari's body was found about 2 p.m. Monday, when police said the suspect called 911. By then, according to the court documents, the boy had been badly injured for some time.
Police said in the court papers that the boy's mother took Kamari to the apartment on Sunday and that she did not notice any bruises when the child bathed that night. She did note that he appeared congested.
She left for work on Monday, police said, leaving Kamari with Hendy. Police said Hendy called her at work several times to report that he had disciplined Kamari for riding on the wrong side of the street. Police said he told her that he had hit the child.
Hendy told police that when he scolded the youth, Kamari told him, "I don't have to listen to you — you're not my daddy." Hendy said he then punched the child twice in the abdomen, according to the court documents. Police said the suspect told the child, "Now you're going to listen to me."
Police said the child rode off on his scooter again and returned 45 minutes later, sweating profusely and shaking. Hendy told police that he brought him inside, gave him water and put him in bed. "Hendy admitted that he then went outside to sell marijuana," the charging documents say.
He returned about an hour later, and the boy had a "blank look" and "looked spent," the court papers say. Hendy also later told police that he noticed pronounced bruising on the boy's abdomen. Still, police said, he went back outside to sell more marijuana, returning after another hour to find the child unresponsive. Police said he then called 911.
Kamari was pronounced dead at Children's National Medical Center.