Guyana's Minister of Public Health, Volda Lawrence, has called on the World Health Organisation (WHO) to develop stronger systems to monitor health risks globally, since this is an issue which small states continue to grapple with.
The Minister was at the time delivering her address at the 70th World Health Assembly in Geneva, Switzerland.
According to Minister Lawrence, the global food, beverage, medical technology and pharmaceutical industries have become so powerful that Small Island and Developing States (SIDS), and countries with low lying coastal zones with limited regulatory and monitoring capacity, cannot effectively curb the negative effects of the activities of these giants.
She explained that the ability of these states to negotiate better solutions for high quality healthy foods and beverages, effective and safe medicines, and other medical technologies, is miniscule. However, she noted that the plight of these states are more likely to be advanced when voiced collectively at forum such as the Assembly.
Further, the Minister pointed out that development, in the context of climate change, and globalization and the ability to purchase, has placed health at risk.
"These changes not only allow extremes of weather, raising sea levels and temperature fluctuations to impact health, but also benefits the rapid movement of goods and services to enhance wellbeing" she stated.
To support her point, Minister Lawrence pointed to the increase in extreme weather, flooding and drought with the propagation of insect vectors spurring outbreaks like Chikungunya and Zika.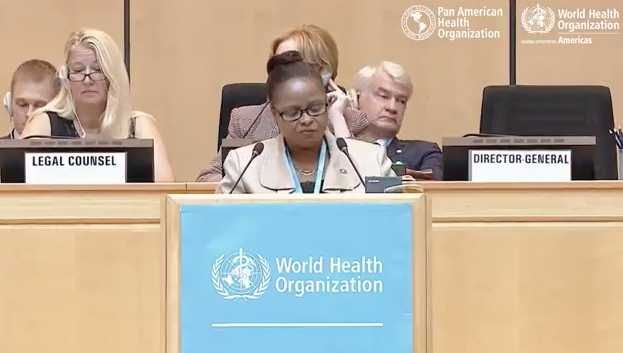 With this though, she added that there has also been rapid access to health resources and technologies with timely interventions and solutions moving at lightning speed across our world to where they are needed. The responses to the last Ebola outbreak and the more recent Zika epidemic in Guyana and across the region are good examples of this with both outbreaks now under control in most places, she said.
As such, she issued a call to the international body for the development of stronger systems to monitor health risks globally, and to particularly assess the impact of climate change on their occurrence.
Minister Lawrence also urge more emphasis be placed on research of new treatments and cures, along with the development and production of global stocks and the availability of vaccines and medicines at a reasonable cost.
"Collectively, I feel that this assembly can motivate global action with the greatest local impact on sustainable development as we work together and share best practices, innovation and solutions that can enhance the health and wellbeing of all," the hopeful Guyanese Health Minister said.
The 70th World Health Assembly was held under the theme "Building Better Systems for Health in the Age of Sustainable Development".