The crew aboard a Guyana Defence Force aircraft faced a different type of turbulence on Saturday as a young Indigenous woman delivered her baby mid-air. Lucky for them, there was a young medical student on board to guide the delivery.
It was just before 6:00pm on Saturday, that one of the GDF's aircraft was transformed into a delivery room during a scheduled flight out of Fairview – an Indigenous village in North Rupununi.
The pregnant woman was on the flight, as she had anticipated her delivery time to be close, but the baby was ready to come into the world high above the clouds.
The GDF disclosed that a Medical Student of Texila American University, who has since been identified as Jemina West, was on board and spearheaded the successful delivery.
The medical student who found herself in an emergency situation in the air,  is the daughter of Chief of Staff, Brigadier Patrick West and a former student of the Bishops' High School.
After the delivery, it was revealed that the mother had developed some minor complications as the infant was in a breeched position, and so a request was made for her to be air-dashed to the Capital city. It was during that air dash that the baby decided it was time to see the new world.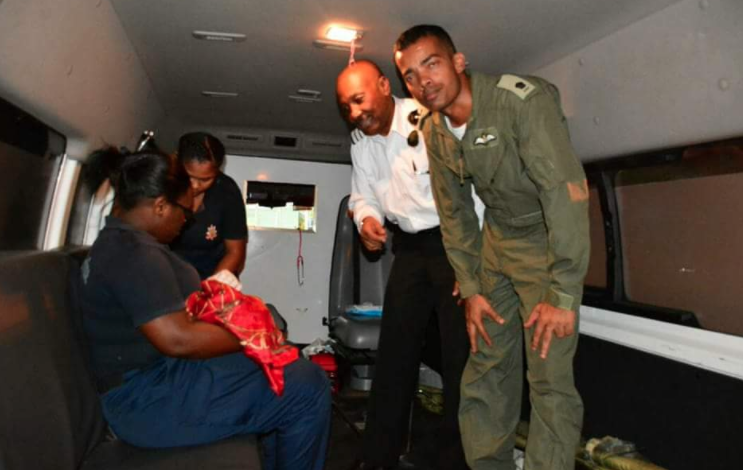 Both mother and baby have since been transferred to the Georgetown Public Hospital Corporation (GPHC) where they are under close observation.
The two Pilots, Majors Mohinder Ramjag and Patrick Nicols have since expressed how elated they were to have experienced an event of that nature, and the fact that both the mother and child are safe.
The GDF said that this is the first known mid-air delivery to have occurred on one of its aircraft.
In January of 2015, Pilot Paul Clarke had a similar experience when he was forced to employ all his first-aid knowledge to assist a teenager in delivering her baby mid-air. They were flying from Aishalton to Lethem, in Region nine.