As the government pushes ahead with plans to diversify the economy and lay a foundation for an agro-tourism sector sector, a Coconut Festival has been added to the annual tourism calendar of activities.
With aim of heightening awareness of the many uses of coconut and stimulate development of a coconut value chain, the festival has been set for October and will culminate with a Coconut Awareness week from October 15 to October 23.  The festival will take place in several parts of Guyana including the Pomeroon.
Several exhibitors from Brazil, Suriname, Mexico, India, Switzerland and the Caribbean are slated to attend the festival to showcase coconut equipment, coconut cuisine and other coconut products and by-products.
Director General of Tourism, Donald Sinclair explained 90% of exhibitors are from Guyana at the media launch of the festival on Wednesday.
Sinclair said the festival will focus on the coconut, its variety uses and its economic and creative possibilities.
Highlights of the week include a speedboat parade in the Pomeroon, coconut walkaton, coconut summit and a coconut awards ceremony.
Minister of Business and Tourism, Dominic Gaskin, said the venture is refreshing, new and non traditional and is very important from an economic standpoint.
He said it was also useful that Guyana was getting the international exposure in this area and urged producers to look beyond the domestic market in order to grow the industry.
Gaskin explained that there is a seemingly endless market for coconut in its many different forms, some of which can be produced right in Guyana.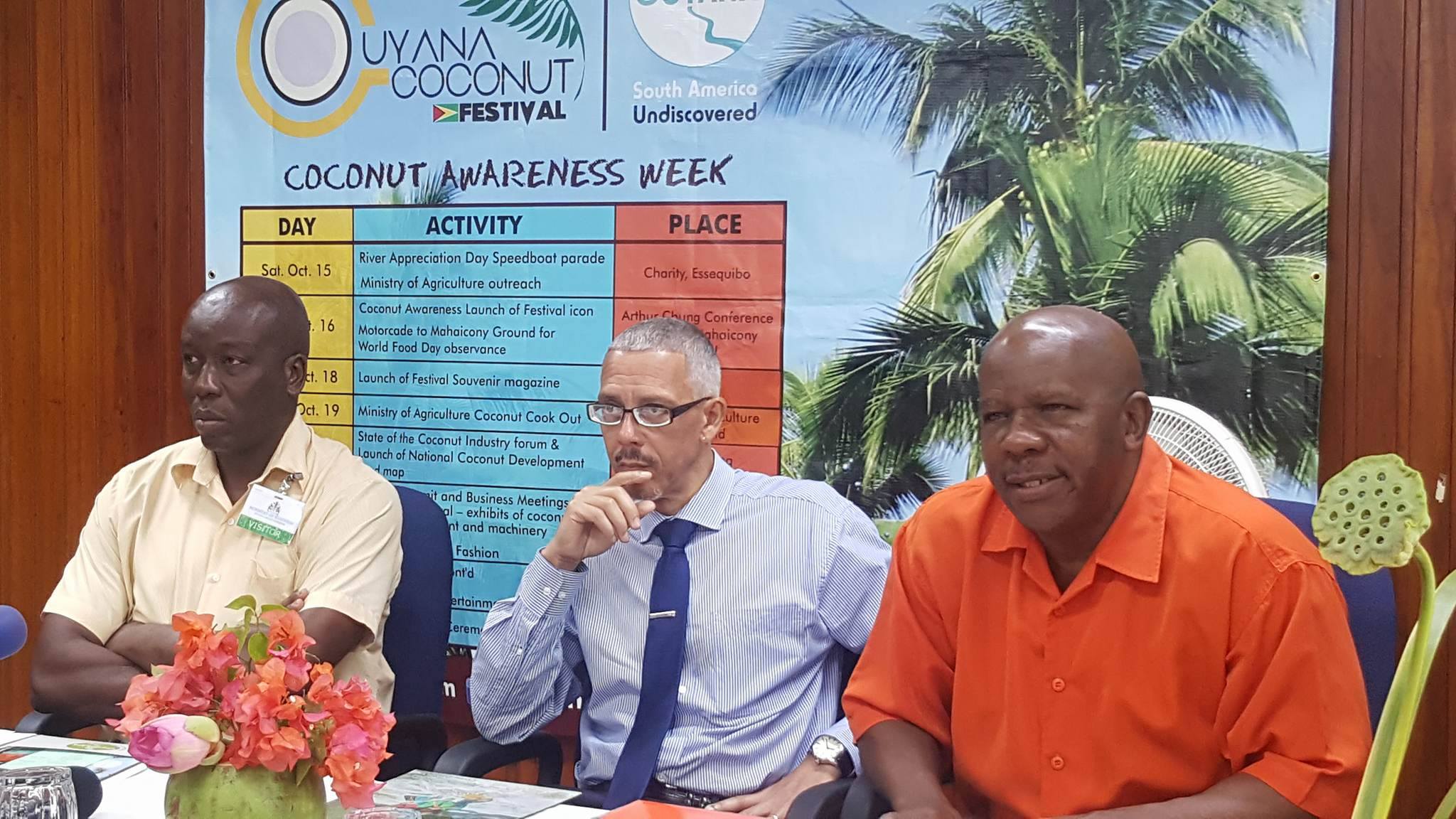 The coconut festival also coincides with Agriculture Month Activities and has received the support of the Ministry of agriculture.
Permanent Secretary, George Jarvis, said coconut was among the top three exported products from Guyana but urged citizens to ensure that they support locally produced products.
He said in many cases the raw products are exported and packaged abroad and returned here as value added commodities.
Potential exhibitors and sponsors are asked to visit the Guyana Tourism Authority to find out more about the festival finalize bookings.