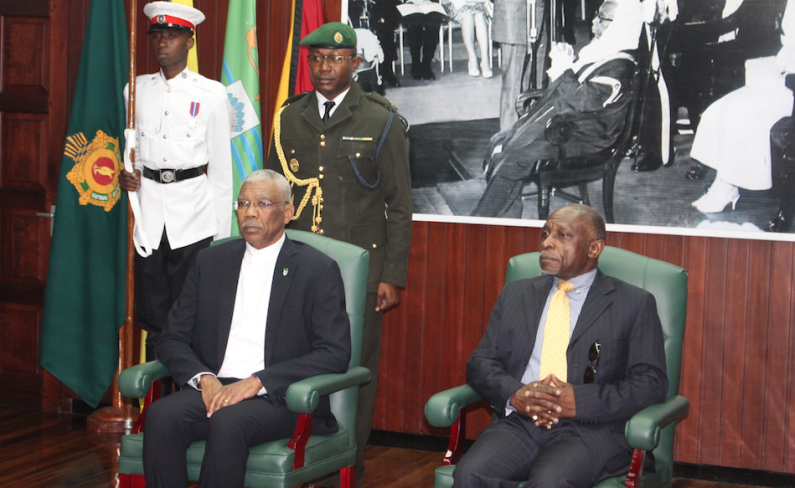 Guyana has expressed a level of contentment with the latest proposals put forward by United Nations Secretary General Ban Ki Moon to resolve the border controversy with its South American neighbor, Venezuela.
Although, Guyana's Foreign Minister, Carl Greenidge would not go into detail about the proposals, he told the media on Wednesday that he is satisfied with the proposals and believes they are "workable" as a whole.
Mr. Greenidge indicated that it is time that the UN and the Secretary General move to employ those proposals and resolve the decades old border spat.
"I can't say what are the proposals but if the Secretary General carries out his functions as stipulated, Guyana will be able to move expeditiously to a resolution of the matters," Minister Greenidge said.
He said the proposals are totally the prerogative of the UN Secretary General and reminded that whoever holds that post is mandated by the Geneva Agreement to look at options available and make a choice towards ensuring border peace.
The Foreign Minister was keen to point out that in Guyana's view, all the options available except taking the matter to the International Court of Justice (ICJ) were tried and have failed.
He said the ICJ may be the only and last option for Guyana unless "Venezuela does the decent thing and abandon its contention which is null and void."
Foreign Minister Greenidge spoke to the media on Wednesday morning just after an engagement with Brazil's Foreign Minister who traveled to Guyana for a one day visit.
He said the matter was discussed during the bilateral engagements which took place at the Ministry of the Presidency in the presence of President David Granger. According to Mr. Greenidge, Brazil's position remains consistent with Guyana's position and that of the bulk of the international community.
Guyana had received the UN Secretary General's commitment to exploring a peaceful resolution to the controversy at the last UN General Assembly in New York in September 2015.
The border row was given fresh life last year after ExxonMobil announced the discovery of significant oil deposits in the Stabroek Bloc within Guyana's waters.
But despite Guyana's rejection, Venezuela continues to lay claim to the Essequibo Region and parts of Guyana's oil rich maritime space.