The Government has moved to increase the presence of the military in its bordering regions with Venezuela following widespread complaints in a number of communities that they were coming under attack by Venezuelan criminal gangs.
President Granegr visited the community of Kaikan yesterday and made known the administration's support.
"I have come here with a promise to ensure that Kaikan is fully integrated into this region and this region is fully integrated into Guyana. Have no fear, if we are united, we will prevail. We will be able to live in a strong, secure and stable country…Frontier communities are guardians of Guyana's territorial integrity and national security. They are our first line of defence against any attempt at incursions and invasions," he told residents at a community meeting held at the Kaikan Primary School.
The community now benefits from 24-hour security. This was necessitated by the situation in neighbouring Venezuela and escalated by the age-old border controversy, which was recently referred to the International Court of Justice (ICJ) by the United Nations.
"Venezuela is claiming that the boundaries are wrong…but that is not true. If you go to Mount Roraima you will see the markers; if you go in the Barima-Waini you will see the markers; if you go along the Cuyuni-Mazaruni you will see the markers. The markers were put down there 110 years ago. Venezuelans are wrong and Guyanese are right and the international court will decide…but believe me, you are safe," President Granger assured.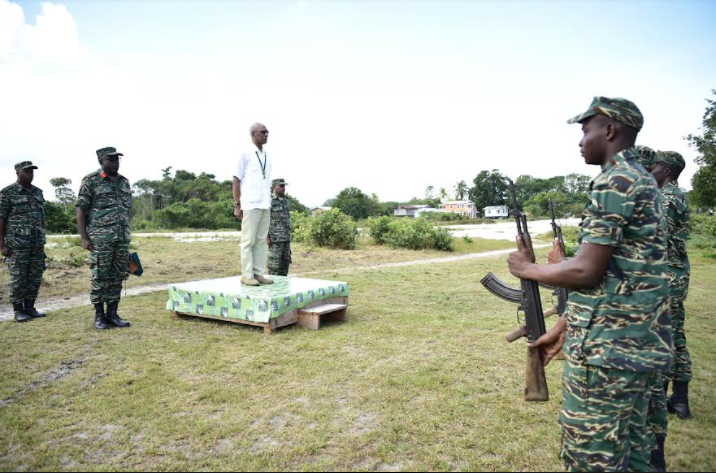 Like the village of Whitewater in Region One, which the President visited last week, Kaikan too has been seeing an influx of Venezuelans, particularly traders and persons seeking health care. During a briefing with GDF ranks deployed in the area, the President was told that Venezuelan civilians and even military personnel come over to the Kaikan Health Post to seek medical attention for malaria and other diseases, while the traders come over to sell or to barter their goods with villagers from communities like Kaikan and Arau. Toshao of Kaikan, Mr. Claude Anselmo said that while these might be seen as legitimate activities, a number of illegal activities are also taking place. He informed that he has received reports smuggling of illegal substances such as marijuana and cocaine. This, the GDF pledged, to eradicate at all costs.
Turning to the residents, President Granger said that while the army and the police will intensify their efforts to ensure their safety, they have a significant role to play as they are the eyes and ears on the ground.
"In weeks and months to come, I am asking you to join the People's Militia, we are not making war with anyone but I want you to be prepared…My brothers and sisters, we have to protect ourselves… People bring illegal guns into the country and they commit crimes with those illegal guns, unregistered guns. These crimes make us feel very unsafe…We can't only rely on the police; we have to look after our own families, our own communities," the President said.