Guyana has signed a $US20 Million loan agreement with the Islamic Development Bank for the upgrade of the Guyana Power and Light Company.
The agreement was signed earlier today in Kuwait between Finance Minister, Winston Jordan and the Vice President of the Bank.
Minister Jordan described the loan agreement as "a celebration of the first loan to be granted by the Bank to my country, in the process cementing our growing relationship and the proactive use of the indicative resource envelope for Guyana."
He explained that the US$20 million loan will support Guyana's Power Utility Upgrade Programme, which is a component of our power Company's Development and Expansion Programme for 2014 to 2021.
"It incorporates necessary reforms and upgrades to reduce losses, and improve the quality and reliability of electricity supply and will, at the same time help to transform Guyana's infrastructural landscape, boost our manufacturing sector and improve the quality of life of our citizens", he said.
The Finance Minister also told the Bank's officials that Guyana is on the cusp of an historic transformation with the recent discovery of over 4B barrels of oil.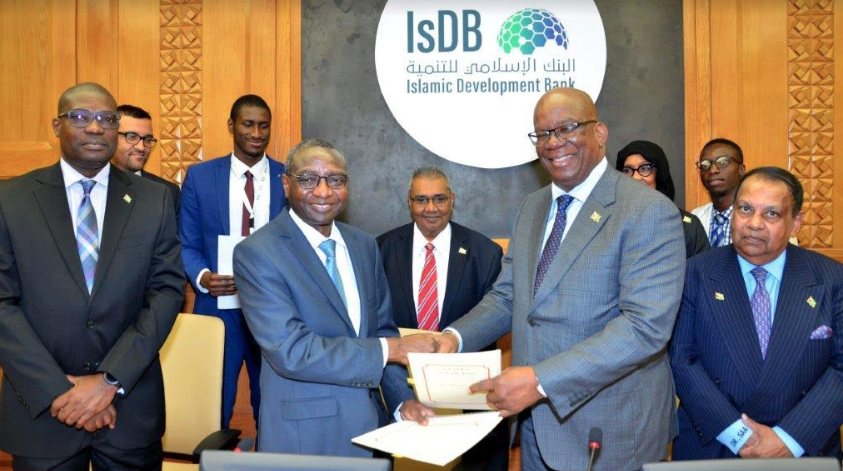 He explained also that the International Monetary Fund has deemed Guyana's medium-term economic prospects as "very favorable and predicts that our GDP will grow by 29.1 percent in 2020 – our first year of production."
"We look forward to working with the IsDB on projects in several sectors, including agriculture. Guyana is a major producer of rice in South America, exporting some US$200 million worth in 2017. In this regard, I wish to express gratitude to the Bank for the Reverse-Linkage Project, which will assist in updating Guyana's expertise and technology in rice production as well as introduce innovative rice varieties in Guyana.We are also thankful for the Grant for the Modernisation and Upgrade of the Palms Geriatric Facility. This support will result in better care for the elderly", Jordan said.