The Prime Minister of Trinidad and Tobago, Dr. Keith Rowley today expressed his disappointment in the concerns raised by the Georgetown Chamber of Commerce and Industry about the signing of a Memorandum of Understanding (MOU) between Guyana and Trinidad and Tobago that focuses on the energy sector.
The MoU, according to the two leaders, has been long in the making.
Recently, it stirred up some worry from the Georgetown Chamber of Commerce and Industry, which demanded that the President calls off the signing until Guyana puts local content legislation in place for the oil and gas sector.
Today, both President David Granger and Prime Minister Keith Rowley debunked concerns that Guyana would be on the losing end of any agreement. They said both sides stand to benefit.
The Trinidadian Prime Minister said he was disappointed by some of the concerns raised by the local business community "because we are working towards ensuring that we as a people…do better. It is disappointing".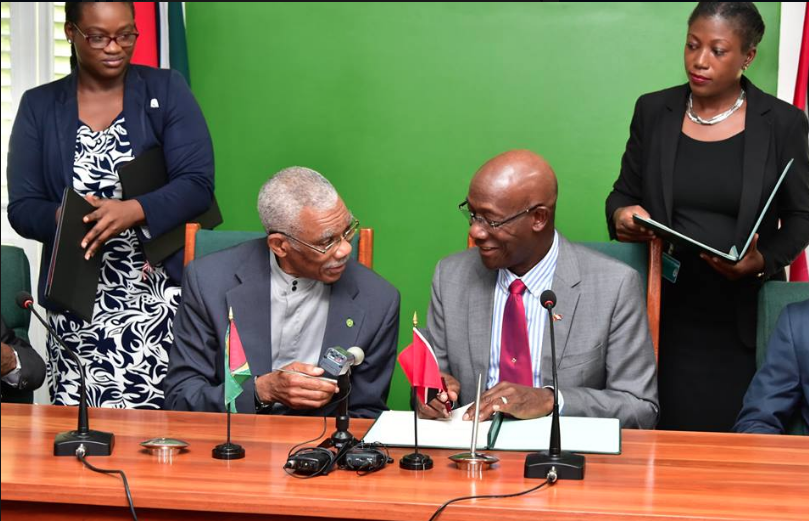 Dr. Rowley said "none of what we have agreed to do is something that will not be of benefit to the people of Guyana, it will not hurt anybody".
President Granger said there is nothing in the Memorandum of Understanding that seeks to harm the interest of the two states. He said there is no sell out and "Guyana is not giving away the family jewels".
"It is simply a means of collaborating. Trinidad and Tobago bring years of experience, not only in production, but also in marketing, and gas and oil spills and dealing with multi-national corporations. The MoU is a means of benefiting from Trinidad's advice and experience and expertise. The fears that there is some giveaway are completely unjustified", President Granger said.
Both Leaders are confident that the agreement was a much needed and will be beneficial to the development of Guyana's Oil and Gas Sector. (by Dennis Glasgow)