The new road to be constructed linking the East Bank of Demerara to the East Coast of Demerara should be completed by the end of 2018.
On Wednesday, the Government of Guyana signed a US$50 Million agreement with the Government of India through the Exim Bank of India.
 The loan will oversee the first phase of the major road project that was progressed under the previous PPP Civic administration but dates back to the early 1970's.
Once documentation and a road design are completed, construction work is expected to begin before the end of this year and continue for another 18 months.
According to Minister of Public Infrastructure, David Patterson, the first phase of the completed road will see a four-lane road being built with two of those lanes fully paved.
Because the project is funded through the Government of India, the construction contract will be open to Indian companies. However, Minister Patterson indicated that local contractors are set to benefit from the several sub contracts that will become available with the project in several areas.
Finance Minister, Winston Jordan, signed the agreement on behalf of the Government of Guyana and he reminded that Guyana and Indian have shared strong bilateral cooperation for all of Guyana's independent years. He said the two countries will continue to share close ties as India is one of the largest bilateral donors.
"At a time when concessionary resources are dwindling and at a time when we have extreme demands for accelerating our development, India has continued to be a reliable partner in development", Minister Jordan said.
He added that the road project will be a very important one since roads are not just about the concrete, but the construction of new roads also lend to the development of new communities and the opening up of businesses and other activities that will further push economic sustainability.
The High Commissioner of India to Guyana,V. Mahalingam, said his government is pleased with its role in the project. He said now that the signing is over, the important phases of the project will kick in and those cover design, contract awarding and construction.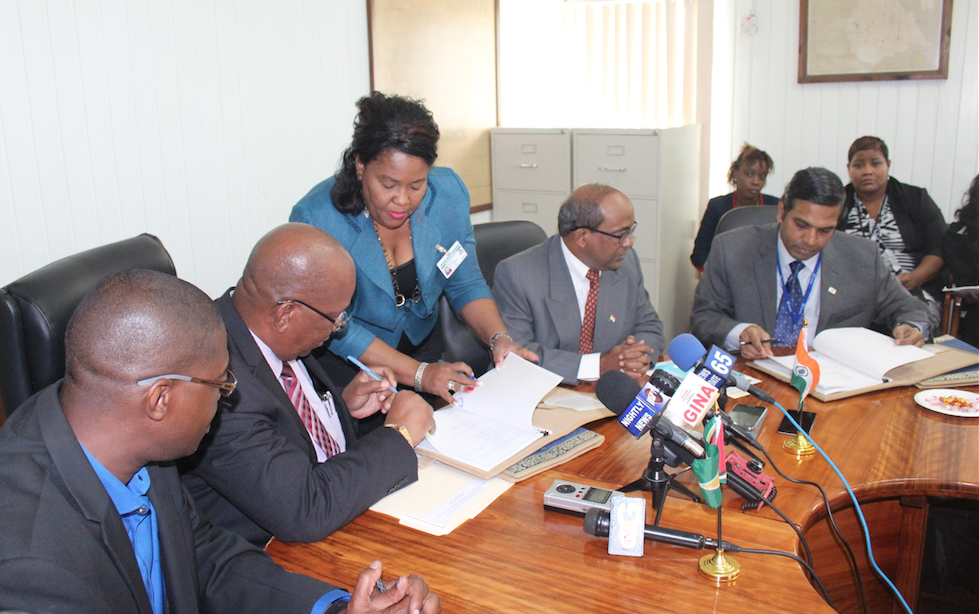 High Commissioner Mahalingam said "we will go all the way to cooperate with the Government of Guyana in executing the project". 
A feasibility study on the project has been completed and with the plan for construction in place, the Public Infrastructure Ministry has assured that the new road will not hamper housing expansion drivers and other government projects in the various communities that the road will be running through. He explained that it will be more of a complement to those other government projects.