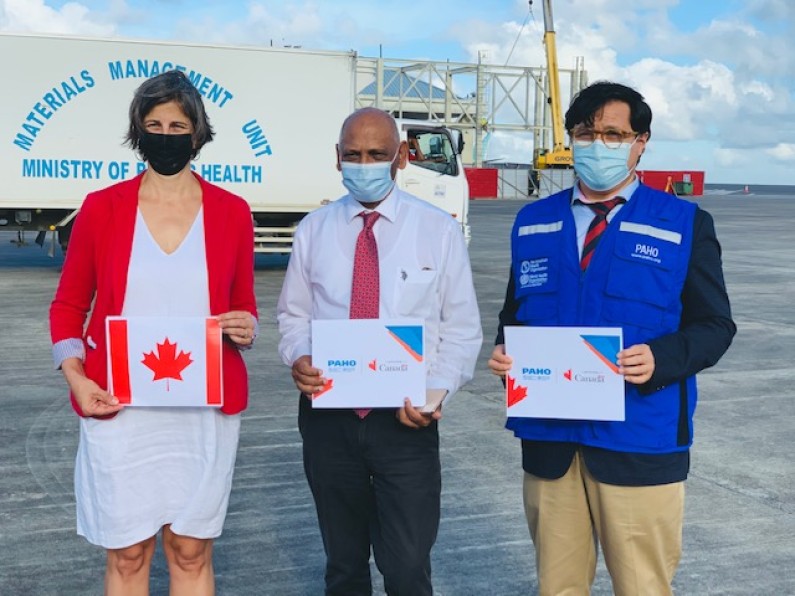 Guyana today received 55,000 doses of the Astrazeneca Covid-19 vaccines which were procured through support from the Government of Canada.
High Commissioner of Canada, Mark Berman applauded the efforts of the Government of Guyana to ensure that vaccines are available in the country. He said Canada is committed to continuing to support Guyana's efforts.
"The Government of Guyana has done tremendous work to ensure the availability and access of vaccines to the people in need. But we also recognize that the migrant populations have also put additional weight on the health care system. As such, Canada is proud to be able to provide this support to the Ministry of Health in an effort to ensure the entire population could be served," he stated
Earlier this year Canada announced a contribution of CAD $50 million to the Pan-American Health Organization (PAHO).
Canada's contribution includes targeted support of at least $6M to the Caribbean, given the disproportionate impacts of the pandemic on small island developing states.
The funding is also supporting national efforts to introduce COVID-19 vaccines and reaching populations living in situations of vulnerability, particularly women and migrants.
In Guyana, since the start of the pandemic, through PAHO, Canada has procured PPEs, provided thousands of testing kits and equipment, supported training to strengthen diagnostic testing and sample taking, supported mental health psychosocial support campaigns and risk communication and also provided essential cleaning and sanitation supplies.