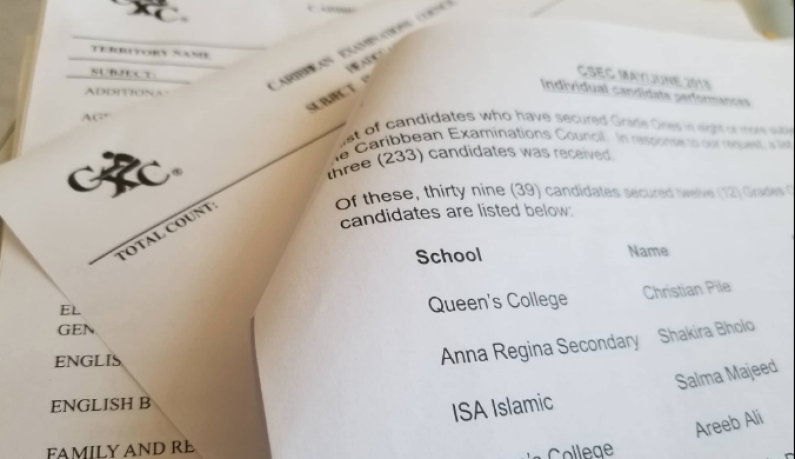 The Ministry of Education is pleased with the improvements that Guyanese students have made in a number of subject areas at the CXC Caribbean Secondary Education Certificate Examination.
The Official results were released today showing improvements in the main subjects of mathematics and english as well as in the science subjects. Improved performances have been recorded in sixteen subject areas, according to the Ministry of Education.
"Grades One to Three passes in both English A and English B improved in 2018. English A recorded a pass rate of 67.14% in 2018 and 57.99% in 2017. English B pass rate in 2018 is 78.6% as compared to 44.45% in 2017. Mathematics also improved with a pass rate of 43.39% in 2018 as compared to 39.23% in 2017. Additional Mathematics remained constant with a pass rate 68.45% in 2018 to 68.61% in 2017", the Education Minister, Nicolette Henry reported.
According to the Ministry of Education, improved performance was evident in 16 subjects, constant in 7 subjects and declined in 12 subjects.
"Outstanding performances were noted in 7 subjects where 90% and over gained acceptable Grades (Gr 1 – 3). Some subjects with outstanding performances were Agricultural Science (Double Award) with 96.14%, Information Technology with 97.5%, Religious Education with 96.69%, Physical Education & Sports with 99.92% and Industrial Technology – Mechanical with 98.57%."
The Chief Education Officer, Marcel Hudson said, the improved performances could be credited to a number of initiatives that the Government and the Ministry have employed to assist students.
A total of 12,269 candidates in Guyana were registered for 2018 CSEC.  Of that number just over 600 of them failed to gain passes in any of the subject areas.  The Chief Education Officer said it is an issue that will be closely examined. This is the first year that the Caribbean Examination Council has highlighted those who would have failed all of their subjects.  In the entire Caribbean, over 11,000 students failed to gain passes.
Guyana's top performing student is Christian Pile, who gained 19 grade ones.  He is from Queens College and is closely followed by Shakira Bholo of Anna Regina Secondary who gained 18 ones and two grade twos.
Over 200 students gained grade ones passes in eight or more subjects.
See full list of top performers below, who gained 12 or more grade ones.
School                                   Name                                     Results obtained
Queen's College                 Christian Pile                                   19 Ones
Anna Regina            Secondary     Shakira Bholo                      18 Ones        2 twos
ISA Islamic                            Salma Majeed                              18 Ones
Queen's College                 Areeb Ali                                         17 Ones        3 twos     1 three
Anna Regina            Secondary     Camecia De La Cruz          17 Ones        2 twos                 1 three
Queens' College                 Haema Dasrath                              17 Ones        1 two       1 three
Queen's College                 Aarti Hooblall                                  17 Ones        3 twos
Queen's College                 Reseda Hack                                 15 Ones        3 twos               1 three
Queen's College                 Leshanna Bindah                           15 Ones        2 twos     2 threes
Queen's College                 Reseda Hack                                 15 Ones        3 twos               1 three
Queen's College                 Yashoda Samaroo                          15 Ones        2 twos
Anna Regina            Secondary     Begum Baksh                     15 Ones        1 two
J C Chandisingh Sec         Darshanie Jadubir              15 Ones        1 two
Queen's College                 Reseda Hack                       15 Ones        1 two
Anna Regina            Secondary     Vishal Narine                                   14 Ones       1 two
Queen's College                 Krystal Cummings              14 Ones        4 twos
Skeldon Line Path Sec       Yugeeta Kumar                    14 Ones        2 twos
Queen's College                 Sushmita Mangru                14 Ones        1 two
St Stanislaus College        Sherlock Langevine                        14 Ones
School                                   Name                                     Results obtained
Queen's College                 Kirsten Caesar                    13 Ones        4 twos
Skeldon Line Path Sec       Pravena Bhoge                    13 Ones        3 twos
Berbice High                                    Renee Bisnauth                  13 Ones        2 twos
Queen's College                 Navindra Persaud               13 Ones        2 twos
Queen's College                 Daniel Baldeo-Thorne        13 Ones        1 two
Queen's College                 Shania Smith                                   13 Ones
Saraswati Vidya Niketan    Jasmattie Parbhu                13 Ones
Queen's College                Jaishree Persaud               12 Ones        4 twos     1 three
Queen's College                 Ansonette Thomas             12 Ones        3 twos     1 three
Skeldon Line Path Sec       Sarveena Persaud              12 Ones        3 twos     1 three
Abram's Zuil Secondary     Lariel Narain                                    12 Ones        3 twos     1 three
Anna Regina            Secondary     Alexander Westford             12 Ones        3 twos
Saraswati Vidya Niketan    Jayaram Sanasie                12 Ones        3 twos
Mae's Secondary                 Sayyid AAbidi                        12 Ones        2 twos
Queen's College                 Brandon Chanderban        12 Ones        2 twos
Queen's College                 Mikayla De Freitas               12 Ones        1 two       1 three
Mackenzie High                   Zoe Sills                                12 Ones        1 two
Queen's College                 Trisha Heeralall                   12 Ones        1 two
Saraswati Vidya Niketan    Rowena Gordon                  12 Ones        1 two
Saraswati Vidya Niketan    Ryan Ramkirath                   12 Ones        1 two
Skeldon Line Path Sec       Melisa Rama                                    12 Ones
The Bishops' High              Krista Bhagwandin             12 Ones