Guyana's Minister of Public Works, Robeson Benn has admitted that Guyana's two international airports are still to meet the minimum security requirements.
Speaking at the opening of a workshop on airport security at the Cheddi Jagan International Airport, Minister Benn said the Government is cognisant of the security loop holes at the airports, and is working vigorously to change the situation. "We have new airlines and aircraft operators landing at the airport and the Government is working tediously to bring in more operators to make flying easier and improving Guyana's economy, which has to be completed by matching security arrangements."
Benn added that Guyanese have to be able to train themselves against security risks. "We have to be ready and prepared in a proactive way to deal with the issue. The impact of terrorism has had a significant effect in particular instances and we were reminded of the 9/11 attack where the world and its economy went into a global shock."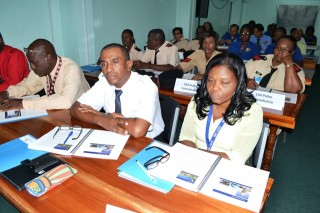 The training programme is based on Airport Threat (Terrorism) Mitigation and is being conducted by the Transportation Security Administration (TSA), an agency of the U.S. Department of Homeland Security.
The participants who are being trained in airport security were drawn from all the agencies that operate at the airport that deal with security; the airport security team, Customs Anti-Narcotic Unit (CANU), Criminal Investigations Department (CID), the Police and the security companies attached to the airport, along with participants from Ogle International Airport.
The TSA ensures all countries that have airlines operating into the US meets the US's requirements, which are in sync with the requirements of the International Civil Aviation Organisation (ICAO). The US also puts out directives at times, which airports have to adhere to and they conduct annual inspections as well.
Charge d' Affaires at the US Embassy in Georgetown, Bryan Hunt, said the US Government's goal is to work together with Caribbean nations to combat transnational crime and to assist them to develop strong security institutions. He said the partnership between Guyana and the US has begun to make significant progress.
Hunt explained that the three-day workshop will provide Guyanese security agencies with international best practices and methodologies for identifying insider risks at airports.
It will assist them in evaluating risk communication options and will help them develop a course body implementation plan. "Participants will leave the course with a better understanding of the ways in which those with privileged access can pose unique security risks and will become more knowledgeable of ways to lower the risks," Hunt said.
Over the years, there has been growing concerns about security at the Cheddi Jagan Airport especially in wake of several drug busts that took place overseas after passengers were able to bypass all the layers of security at the airport without being noticed.  There have also been a number of busts at the local airports.
Filed: 27th August, 2014