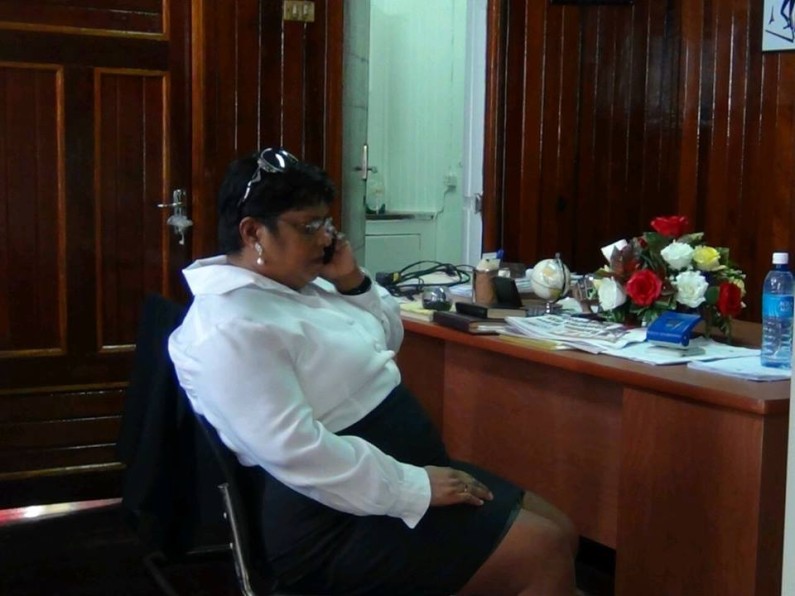 The drama continued on Tuesday morning at the Georgetown City Council as Government appointed Acting Town Clerk, Carol Sooba had her bodyguards break their way into her office following a decision by the council to send her on leave and shut her out of her office.
Sooba did not have much to say but had her personal security remove the barriers and the new locks that had been placed late yesterday to lock her out of the Town Clerk's office.
The Mayor and majority of the councilors of the Georgetown municipality voted on Monday to send Sooba and the City treasurer on leave after it was revealed that she had granted permission without the council's knowledge to give a multi million dollar waver in rates and taxes to a prominent city businessman.
Sooba objected to that move and made it clear that she would be back at work as usual.
City Mayor Hamilton Green has not been hiding his disdain for the Acting Town Clerk and the two have had several clashes over the way Sooba wants to manage the affairs of the city. The Acting Town Clerk has also had clashes with the Deputy Mayor and several councillors including PPP councillors of the council.
While  many of the councillors and the Mayor have been calling for her removal, she continues to enjoy the support of the Government and the governing People's Progressive Party.
Filed: 26th August 2014