The Georgetown Mayor and City Council is warning citizens of the capital city against conducting business with Acting Town Clerk, Carol Sooba.
In advertisements placed in the daily newspapers last week, the City Council reminded that the acting Town Clerk Carol Sooba has been sent on administrative leave and is therefore not authorized to transact any business or sign any document on behalf of the Mayor  and City Council.
Sooba was sent on leave last Monday as City Hall launched a probe into a tax waiver that she granted to a city business man who owed the Council millions of dollars in rates and taxes. The City Council contended that Sooba made the move without the approval of the Mayor and City Council.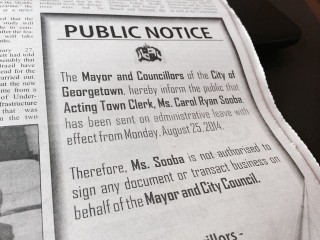 The City Treasurer has also been sent on administrative leave for his role in granting the waiver.
The Acting Town Clerk and the Council have been going at each other over the management of the City.
Sooba was installed by the Local Government Minister and has never been welcomed by the municipality.
Representatives from all of the political parties on the council have expressed concern about her management of the city's affairs.
Last week after being sent on administrative leave, Sooba still turned up to her job and had her bodyguard ripped apart the barricades which were placed on her office.
Filed: 1st September, 2014.
.