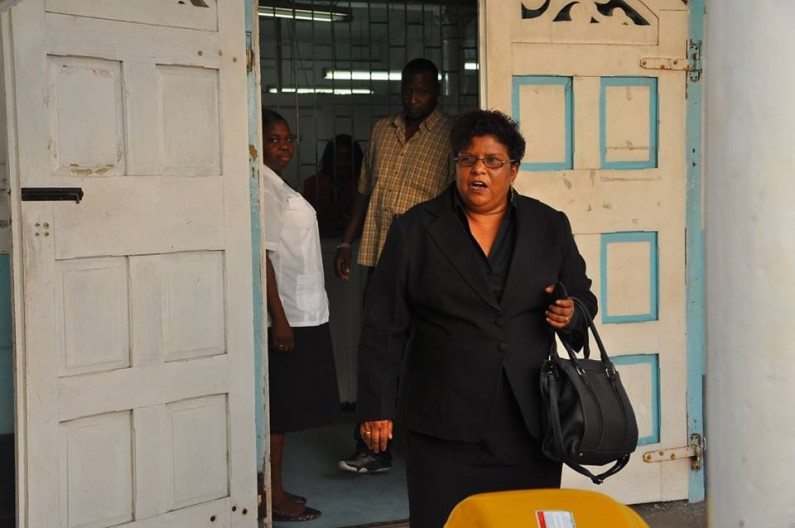 Controversial Town Clerk of the City of Georgetown, Carol Sooba was sent on administrative leave on Monday during a heated standoff at the council's statutory meeting.
The move is to facilitate an investigation into alleged misappropriation of funds stemming directly from her office, Mayor Hamilton Green explained.
With the aid of a number of officers, Sooba was escorted out of the conference room at the council and later out of the compound.
The Mayor, along with the Deputy Mayor Patricia Chase-Greene and other Councilors have in the past challenged Sooba's competency and claimed that she was an imposition on the Council by the People's Progressive Party Administration.
At the first statutory meeting since the APNU+AFC coalition took office as the new Government of Guyana, Sooba was handed the official notice to vacate the office of the Town Clerk.
Mayor Green said Deputy Town Clerk Sharon Harry will act in the position.
The meeting saw a heated exchange of views when the motion to send Sooba on leave was moved by Councilor Ranwell Jordan.
During the exchange however, Sooba would only say that she believes she was the victim of a witch-hunt. The usually aggressive and animated Town Clerk was very calm in her demeanor.
Chase-Greene has instructed that the locks on the doors leading to the Town Clerks chambers be changed.
After more than two years of eluding meetings with Mayor Hamilton Green, Sooba turned up last Monday to a management meeting headed by the Mayor.
Green and Sooba have been at loggerheads since her appointment at the City Council as acting Town Clerk by the former Minister of Local Government.
During that meeting, the Mayor could be heard saying that he will not support "square pegs in round holes" as he urged support for central government in the ongoing cleanup activities around the City.
The Mayor said he does not want anyone to feel it is "Sunday school" in the city.
The City Council had moved a previous no confidence motion in Ms. Sooba but the PPP Civic administration refused to acknowledge the motion.