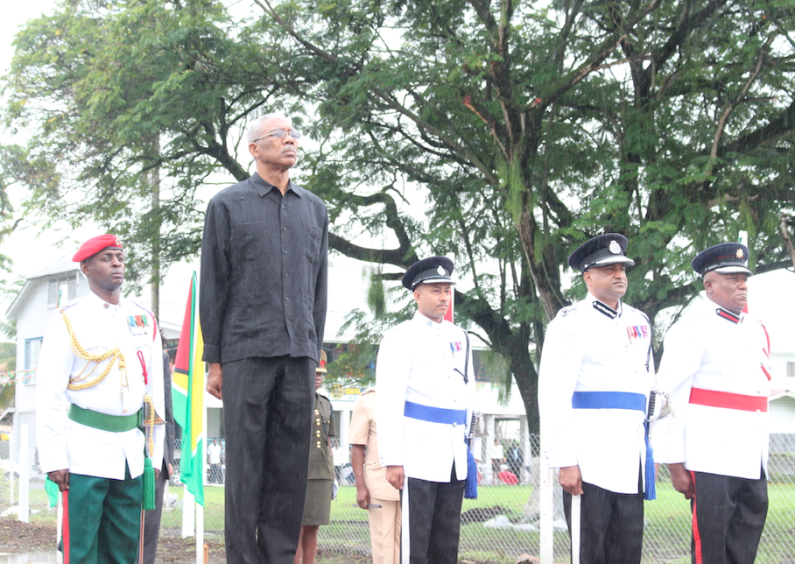 Early morning heavy showers could not dampen the spirits of thousands of Guyanese who gathered at the Independence Arch site on Brickdam and surrounding areas to witness President Granger at his first flag raising ceremony since being sworn into office just over a week ago.
Dressed in a black shirt jack with matching pants and his wife in a sleeveless black and white dress, the President and his team arrived to the loud cheers of the crowd in the pouring rain.
He took the salute and inspected the Guard of Honour with the type of military precision that defined his time in the Guyana Defense Force. He retired as a Brigadier just over two decades ago.
The President decided to move this year's flag raising ceremony to the Independence Arch on Brickdam in memory to those who fought for the country's independence in 1966.
Eight floral tributes were laid at the Independence Arch by the President and other dignitaries. The Independence Arch was the gift to the people of Guyana by the Demerara Bauxite Company in 1966.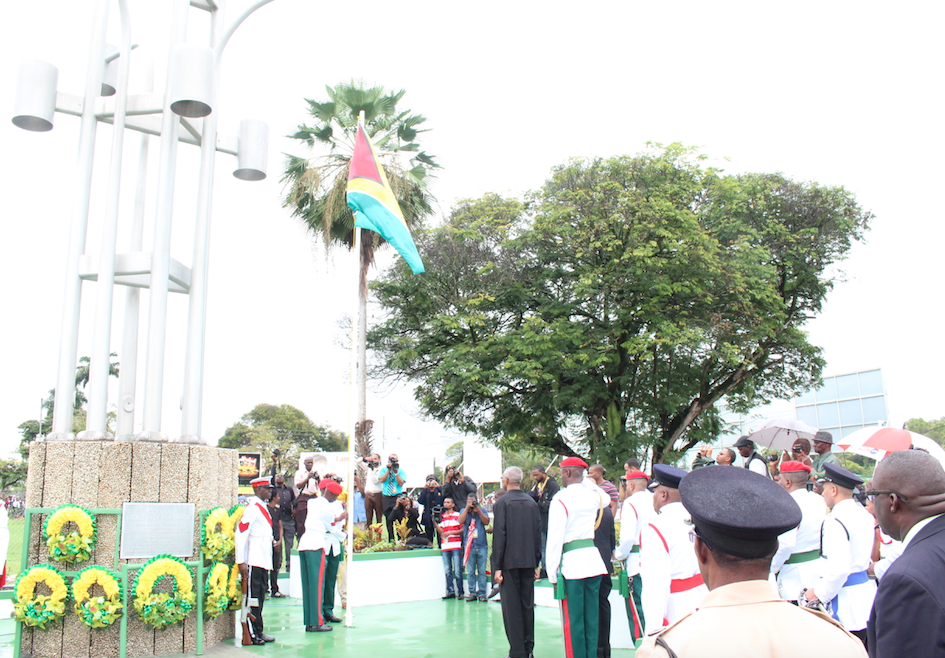 With the dark clouds overhead and the rainfall drizzling across the event, President Granger reminded Guyanese of the struggle for Independence 49 years ago and said the time is now for all Guyanese to be committed to building and developing a more united nation.
"We had a duty to continue the work they started to transform a united colony to a united nation. Today is a day of thanksgiving to give thanks for the gift of Independence."
The President reminded that Guyana's accomplishment of becoming an independent nation was not the work of any one person or one nation but it was a collective effort that brought Guyanese and the entire Caribbean together. He said the trade union movement played one of the major roles and those roles should not be forgotten.
According to the President,"today celebrates the Independence gained on the 26th May 1966 after 350 years of Dutch and British colonisation.
We are assembled at this national monument in solemn remembrance of the lives and the labours of our heroes."
Guyana's national flag, the Golden Arrowhead was hoisted to the loud sounds of the 21 gun salute.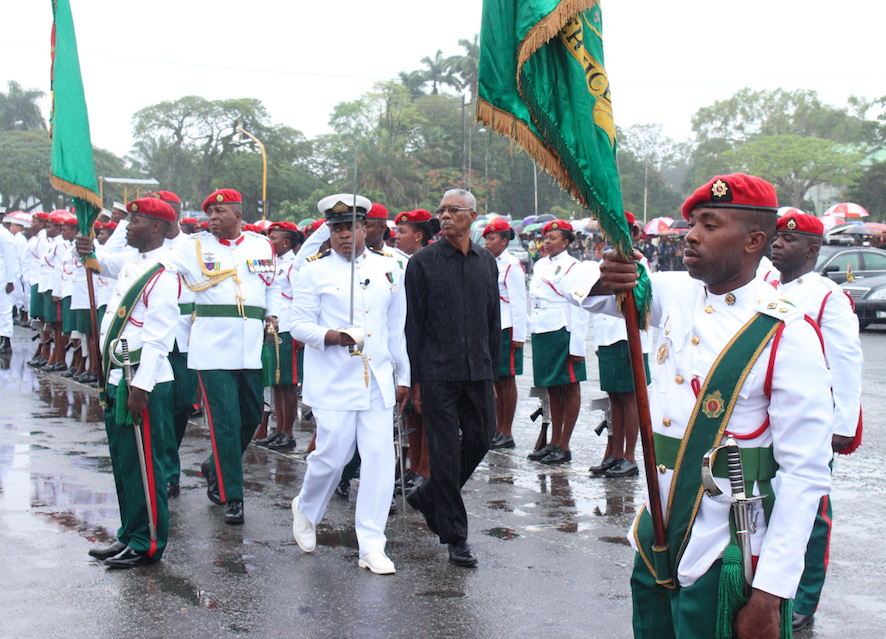 Many of those who gathered to witness the occasion expressed their pride in the event. One woman in a wheelchair said she and her family travelled all the way from Berbice to be a part of the event. She said she was not going to miss the event for anything and was pleased to be there connecting with history and the country's independence.