More than a decade after the original independence arch was removed from along the East Bank Public Road, a new arch to the tune of $20 million was commissioned on Friday, six days before Guyana officially observes its 50th Independence Anniversary.
The arch, which is now positioned at Agricola, is a 50th Anniversary gift to the nation from conglomerate, Banks DIH.
It marks both the entrance to the Capital city of  Georgetown and demarcates the city's southern boundary.
At a simple ceremony, President David Granger was joined by corporate Guyana and the Diplomatic community to mark the historic occasion.
Recognizing the magnitude of the gift to the people of Guyana, President Granger said he was impressed with number of people involved in the construction of the arch. He explained that the arch was both a symbol of Guyana's independence and the start of making Georgetown clean, green and safe once again.
"This arch is a gateway to movement of urban renewal as the city undergoes renewal," he said.
He spoke briefly about Georgetown's history, both colonial and post independence and said the age has come for the city to be an ordered one, allowing for easy access. "Sidewalks, alleys and pavements must be left unencumbered… there must be less traffic congestion and laws must be enforced vigorously," he said. The President said at the time of independence in May 1966, Georgetown was on 6.5 square kilometers and has grown to be more than 40 square kilometers 50 years later.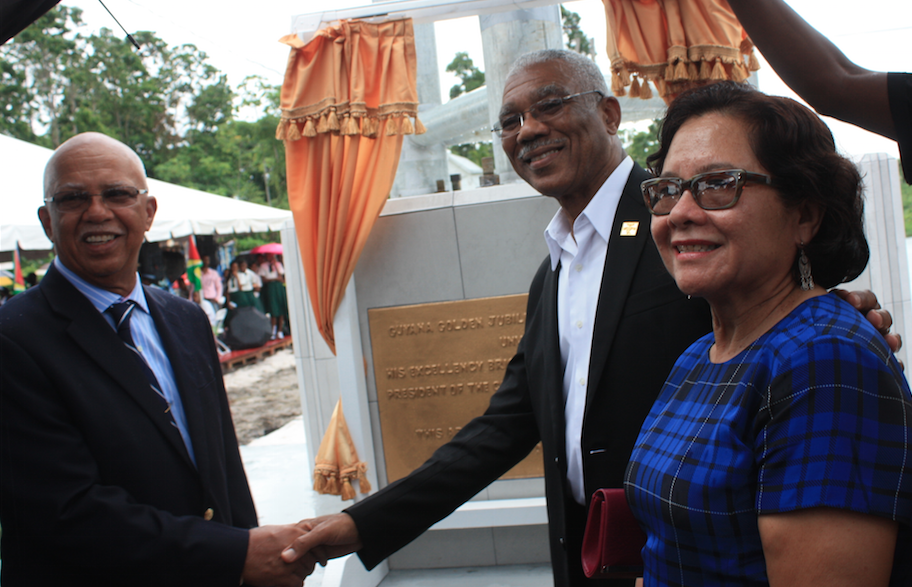 He recalled that the city was marred in "political mud" for the last 20 years but said a new era is being ushered in.
Banks DIH Chairman Clifford Reis also delivered brief remarks and said he hopes that the arch will represent a symbol of hope for all citizens. Banks financed the reconstruction of the new arch and worked hand in hand with the Ministry of Public Infrastructure.
Subject Minister David Patterson reminded that the first arch which was stationed at La Penitence was removed in 2004 to allow for the expansion of the road under the former PPP government. It was never replaced and Patterson said checks to locate the original arch were unsuccessful. He said the new arch will serve more than practicality to mark the entrance and exit of Georgetown's extended boundary but it stands to commemorate the values of perseverance and hard work.
A second arch will be constructed along the East Coast to mark the northern boundary of Georgetown. The main Independence arch still stands tall at eastern end of Brickdam and underwent refurbishment last year. These arches are a reminder of Guyana becoming a sovereign nation and are listed among the nation's most important national symbols.