With the sun shining brightly, the Ansa McAl company commissioned a new Independence arch at Cummings Lodge on the East Coast of Demerara on Saturday.
The arch marks the eastern boundary of the City of Georgetown and is an independence gift to Guyana from the company which has been operating in Guyana for the past 25 years.
Minister of Public Infrastructure, David Patterson, welcomed the initiative and reminded that discussions on the project started 18 months ago. He also told the simple commissioning ceremony that as Minister of Public Infrastructure, he accepts responsibility for the traffic chaos that was caused on Thursday morning when the road was closed off for the arch's erection. He apologised for the traffic problems.
Chairman and Chief Executive of the ANSA McAL Group, Norman Sabga also apologised for the inconvenience that the traffic holdup caused on Thursday. He said that the company wanted the arch to be vibrant, futuristic and a symbol of the strength of Guyana and looking at the end result, it is clear that this was achieved. "What is very gratifying as well is that 100 percent of the design and construction, was done by Guyanese nationals and that was of particular importance," he said.
President David Granger in remarks at the Commissioning ceremony reminded of the independence arches all across the country serving as a sign of nationhood and strength and togetherness of the people of Guyana. He thanked Ansa Mcal for the initiative.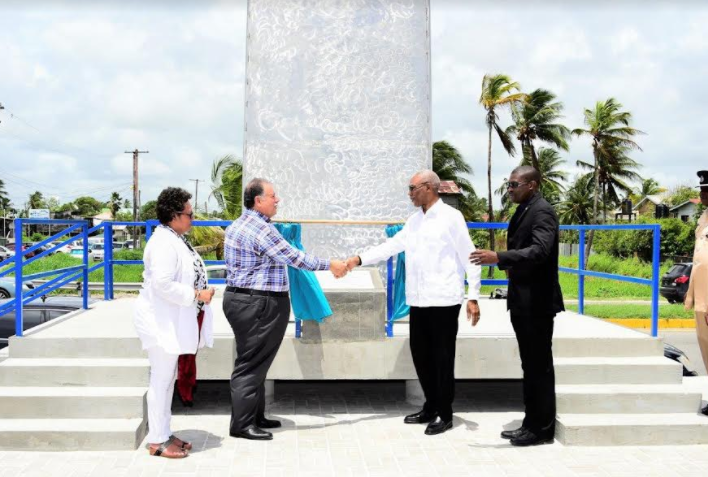 He said the arch is now a permanent and precious landmark of the national capital.
According to Mr. Granger, "Eastern Georgetown is changing rapidly as land for air and road transportation, housing, industrial and commercial expansion is being exhausted and development is pushed eastwards. The construction of bridges, roads and social infrastructure has accompanied the establishment and enlargement of these settlements. This arch, therefore, is more than just a marker of the City's eastern border. It is a signpost which identifies the frontier of a fast-developing administrative, commercial, educational and residential zone".
The arch was constructed by Marcel Gaskin and Associates and Industrial Fabricators Incorporated (InFab), who worked on creating it for almost a year. The total cost of the project, which was completely funded by Ansa McAl, stands at $20 million
Last May, another Independence arch was commissioned at Agricola, the southern entrance to the City of Georgetown. That arch was donated by Banks DIH.
(MOTP Photos)