A drug smuggler arrested following a shootout with U.S. marshals in Queens was on the run for more than two decades and went to bed in a bullet-proof vest with two guns on his pillow, police and sources said Wednesday.
Oswald Lewis, 44, has been wanted since he was indicted for conspiracy to distribute cocaine in April 1991 in Virginia, officials said.
He was turning in for the night donned in a bulletproof vest with two handguns, a .40-caliber Taurus and 9-mm. Ruger, on his pillow when marshals burst into the Springfield Gardens apartment where he was holed up around 11 p.m. Tuesday, sources said.
Lewis responded in a flash, guns blazing in both hands.
Two marshals returned fire and wounded Lewis in the left hand, sources said.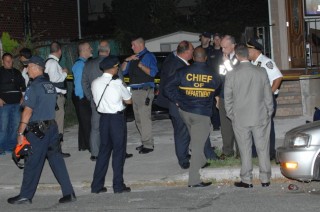 He fled to the backyard where he fired on NYPD detectives serving as back up. He fired about a dozen shots, emptying both guns, before tossing his weapons and surrendering, sources and witnesses said.
No law enforcement officers were injured and Lewis' weapons were both recovered.
The apartment appears to be vacant and Lewis may have been squatting there, a source said.
Lewis is recovering at Jamaica Hospital and will be brought to Brooklyn Federal Court to face charges.
"The wound that he suffered, while it's non-life threatening, it's relatively severe," said U.S. marshals Assistant Chief Jim Elcik. "There may be some nerve damage."
Two of the marshals who helped apprehend Lewis were also on-scne when two marshals and an NYPD detective were shot on July 28 when they showed up to arrest child molester Charles Mozdir at a West Village smoke shop, a source said.
Mozdir died in that shootout, which the lawmen survived.
Marshals recently got a tip that Lewis was in the city and traced him to the flop apartment on 175th St.
The Guyana native was arrested twice since the warrant was issued for him in 1991, officials said Wednesday, but both times he was released before authorities realized his true identity.
Maryland State Police arrested Lewis for possession, smuggling and distribution of cocaine on May 14, 1993. Using false ID, he posted bond and a warrant for his arrest was issued later that year, officials said, when he failed to return to court.
North Carolina highway patrol cops busted Lewis on Jan. 31, 1995, for trafficking cocaine but he again presented a false ID and posted bond before authorities realized his true identity, officials said. Police there a warrant for his arrest for bail jumping when he failed to show back up to court.
Investigators do not believe he feared the feds after two decades on the run, a source said. They suspect he was heavily armed and wearing body armor Tuesday because he had enemies on the street.
"He was worried about somebody other than law enforcement," the source said. (NY Daily News)