Guyana and the United States have signed a Memorandum of Understanding on the operation of a vetted counter-narcotic investigative unit programme.
According to a Ministry of Public Security release, the Vetted Unit Program of the Drug Enforcement Administration of the United States provides training, equipping and the necessary assistance to partner countries, so that specialized units in those countries can meet certain mutually-determined standards and "can increase capacity in integrity, professionalism, and competence in fighting drug crime."
Minister of Public Security Khemraj Ramjattan signed the MOU on behalf of the Guyana government while US Ambassador Perry Holloway signed on behalf of the US government.
This program is intended to ensure better investigations and interdictions, and to prosecute and dismantle high-value targets in narco-trafficking networks.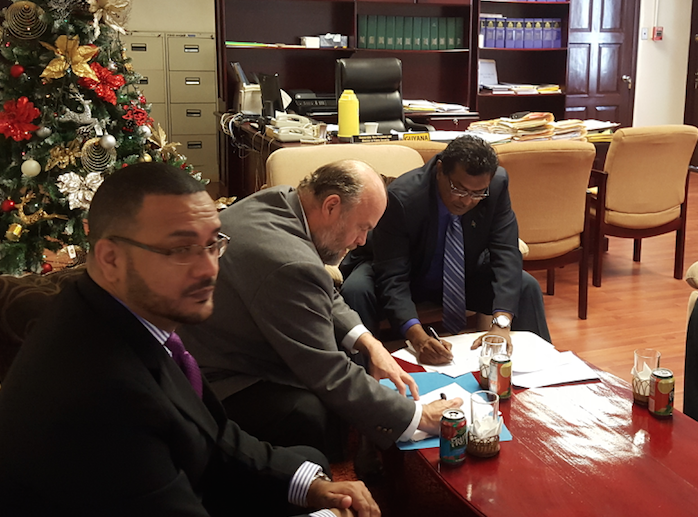 "Members of Guyana's Law Enforcement sector who will participate in this Vetted Unit Program will have to pass certain background checks, plus tests as to medical and psychological fitness for duty, polygraph testing and random drug testing", the release said.
 The DEA will be responsible for all expenses for training, whether it will be local or international.
 The MOU will remain in force for a period of five (5) years.
Guyana and the United States have been strengthening their relationship in the fight against narco trafficking.
Meanwhile, the Minister of Public Security also took the opportunity to request assistance from the US concerning a high-powered portable container scanner to surveil the contents of containers at various wharves in Georgetown.
Mr Bryan Hunt, U.S. Deputy Head of Mission informed that the request is actively being looked into and their experts in USA are presently engaged in identifying costs and maintenance arrangement for such a crime fighting asset.