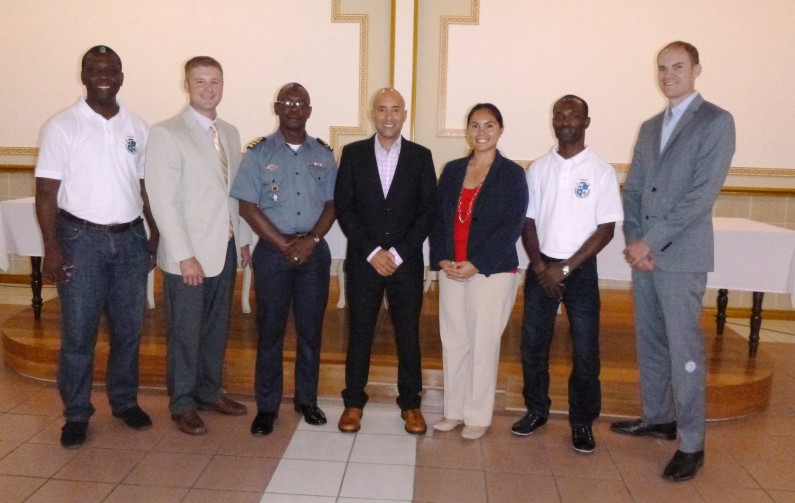 GEORGETOWN – In a cooperative effort between the United States and Guyana to improve global maritime transport security, the US Embassy in Georgetown facilitated a week-long workshop on auditing management systems.
This training was conducted in partnership with the United States Coast Guard and the Maritime Administration of Guyana (MARAD).  It represents the third of four courses delivered to Guyanese officials from multiple agencies.
The workshop completed this week is based on international standards for auditing and will assist employees of the port, Customs, Port Police, Health, the Guyanese Coast Guard, and MARAD to perform effective inspections and audits and ensure that ports remain secure.  Secure ports reduce the risk of threats to the shipping community which in turn keeps the price of shipped goods lower by potentially reducing insurance costs to shippers, and reducing the time it takes to get cargo in and out of Guyana's ports.
The efforts of Guyana's newly trained auditors will strengthen the security of Guyana's ports by identifying security vulnerabilities and developing solutions through the auditing of security management practices.  The broad representation of members from Guyanese ports and the Guyanese government represent a strong commitment to port security and the facilitation of trade between Guyana and the United States.
This program, funded through the Caribbean Basin Security Initiative (CBSI), helps strengthen capacity and provide practical skills to relevant security officials working in this critically important area.
Through such CBSI partnerships, the United States and Guyana seek to enhance the bilateral security relationship to create a partnership to combat transnational crime, develop strong security institutions in Guyana, and advance the safety and security of the citizens of Guyana.