The University of Guyana on Saturday bestowed an Honorary Doctorate of Letters degree on Guyanese musical and cultural icon, Dave Martins at its 56th convocation ceremony, adding to his already long list of accolades and achievements.
Martins, known for his many hit cultural songs, including "Not a Blade of Grass", " We are the Champions", "Cricket in the Jungle" and "Is We Own" has been a household name in Guyana and throughout the Caribbean for decades.
His song "Not a Blade a Grass" is special to Guyanese, as it has served as a rallying cry against Venezuela and its territorial claims.
"We are the Champions" served as an anthem for West Indies cricket for decades.
The songwriter used his niche for humour and telling stories about his Caribbean heritage to create several beloved musical hits. The singer's work is not limited to English and Caribbean –style genres but is also rooted in Latin Culture—something inherently intertwined in his lineage.
Martins produced over 100 songs, several advertising jingles, and an award-wining play.
During the University's graduation ceremony, Mr. Martins expressed gratitude to the University of Guyana and for recognizing his work.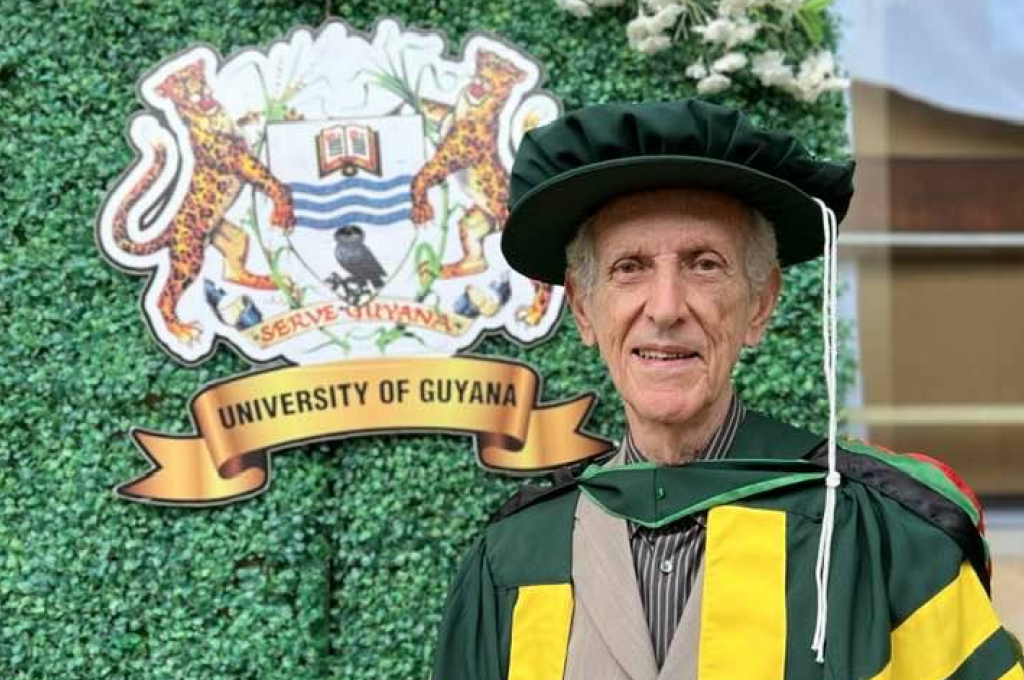 "Your work will succeed or it will not and if it succeeds that you don't have to explain anything, or you shouldn't have to explain anything, at least I don't. You must take it as a gift, a gift that was given to you, you did not ask anybody for it. Any most importantly, when you create it and when you produce it and you see it meaning something to other people, well that is an acceleration that you do not have to explain," Martins said.
In his address to the graduating class of 2022, Martins urged the graduates to be their own critic, telling them that he was able to rise to many challenges that have confronted him and his long career. Even as he was already making waves he said, he was still open to criticisms to better his craft, which he explained was the hallmark of his success.
"You have to become your own best critic, I think that is one of the things about this honorary doctorate is that we sometimes forget that the selection that the persons makes is in itself a gift because a lot of stuff will come to you and you have to be discerning enough to say what is good," Martins said.
He became prominent and rose to stardom in 1966 when he formed an all Caribbean band, The Tradewinds.
He exposed the new band to the Caribbean and after writing four songs he decided to go to the Trinidad carnival.
Within three months, one of the songs topped the charts and by 1967 the Tradewinds became a household name in the Caribbean.