President Irfaan Ali has implored graduates of the University of Guyana to stay and build Guyana and resist the temptation to migrate, "even as the grass may seem greener on the other side."
Delivering the feature address virtually at the 56 convocation ceremony of the University of Guyana, the President admitted that for too long, University graduates have been leaving Guyana to work and settle in other countries.
He said the brain drain issue has caused the country to lose critical skills and expertise over the years and Guyana can no longer afford the migration of its most skilled citizens.
"For too long, outward migration has deprived our country of the skilled persons, particularly University graduates. A large percentage of graduates have opted to seek opportunities overseas, the grass may appear greener on the other side but reality often collides with perception. Guyana is not only your home, it belongs to you, all Guyanese, stay and help realize this unquestionable potential," the President said as he reminded the graduates that their expertise is needed to ignite national development.
In making the case why graduates should remain in Guyana, the President said exciting times lie ahead for Guyana and for Guyanese and therefore there must be all hands on deck.
He said the graduates should see themselves as the custodians of the country's wealth who have a duty to safeguard the country's national patrimony and to ensure that everyone benefits from the fruits of national development.
"You have a duty to make your country a better place. Guyana summons you to its service, it is your generation to which the nation looks to drive economic transformation and propel prosperity. Your knowledge and skills are needed more than ever," the President told the graduating classes.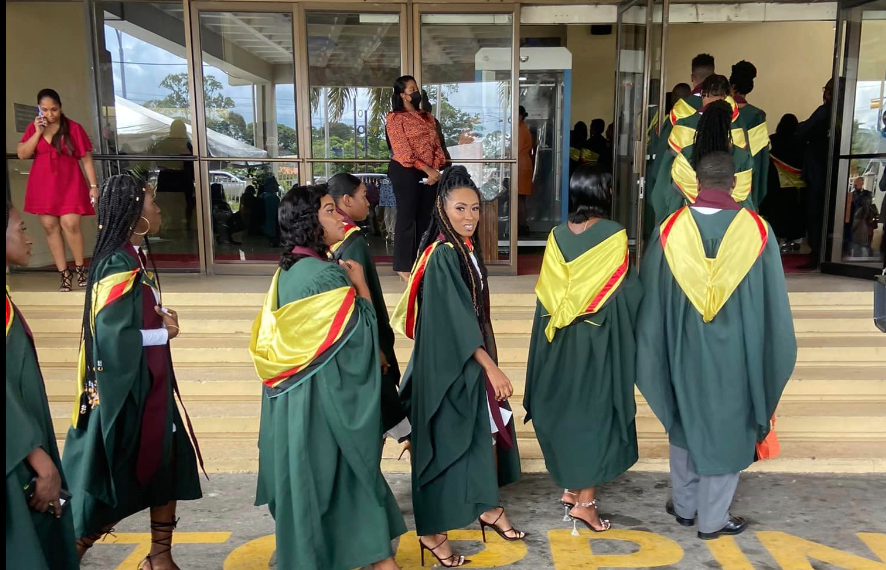 President Ali told the graduates that they are living in a country that is now cementing its place in important areas globally and highly skilled human resources will be needed.
"I assure you that greater opportunities are in the pipeline, our country is expanding and diversifying. A booming economy generates wealth, jobs and brings with it tremendous opportunities, but these opportunities will not appear on a platter, they have to be earned, the world has limited use for slackers," the President said.
Guyana continues to see the majority of its university graduates leaving the country to take up more lucrative jobs abroad. It is a problem that continues to grow even with the country's good economic prospects.