The 2019 graduating class of the University of Guyana has been encouraged to stay in Guyana and get ready to take advantage of what will be coming Guyana's way as the country gets into oil production.
Acting Chancellor of the Judiciary, Yonette Cummings delivered the feature address at the 53rd Convocation of the University of Guyana on Saturday evening and told the graduating students that with Guyana's oil wealth, the grass is becoming greener on this side.
"You are graduating at an important time in Guyana's history. You would have read about the vast oil finds, the new star on the global oil map, the Caribbean's Saudi Arabia. All epithets used to describe Guyana….there are predictions of the country's wealth which tell us that the grass greener here. There is no need for you to go abroad and look for greener pastures…I encourage you to take advantage of what is here in Guyana."
The Chancellor explained to the graduating class that they were not just graduating from the University of Guyana, but were also graduating from the University of Life. She said they now have the skill sets to become marketable and proficient.
Chancellor Cummings recalled her days at the University of Guyana as a young student just out of High School in Linden, moving to the city and taking on a new life. She said she can relate to the graduating class as they celebrate after many long hours of studying and many sleepless nights.
She said as they move forward, they must remember to impart the knowledge they would have obtained.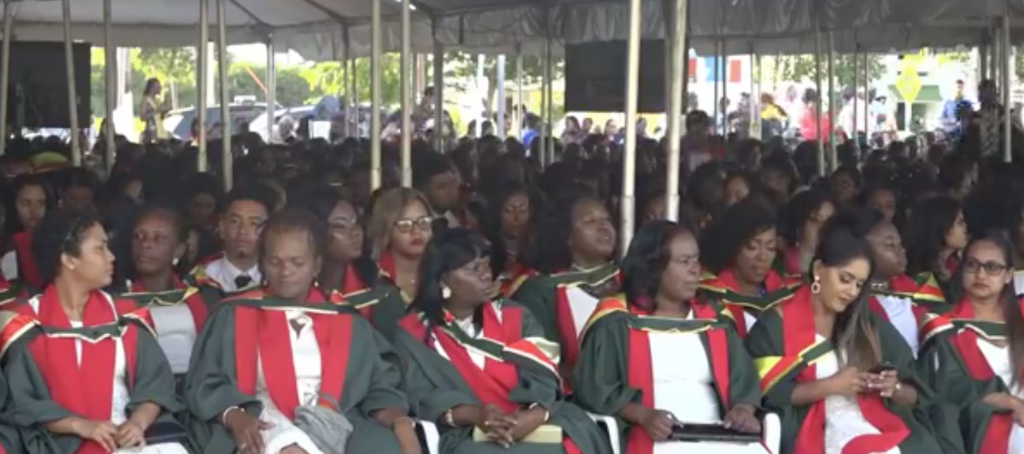 "You have to let the values which have inspired and motivated you be shared with the next generation. You have more to impart to the next generation than ours because you are more equipped and well equipped to take success to another level and to be exemplars for the next generation", Chancellor Cummings encouraged.
The University's graduation on Saturday also saw the installation of Professor Dr. Edward Greene as the new Chancellor of the University. That installation took place in the morning session of the graduation.
The new University Chancellor told the graduating students that life is not about individual egos, but rather, it is about collective leadership that must be put to the benefit of this country.
Dr. Greene reminded the graduating students that they represent the generation of graduates fortunate to emerge at the cusp of a projected buoyant economy in Guyana.
Over 2000 students graduated from the University of Guyana on Saturday. Two students, Karishma Narain and Shane Rampartab were named Valedictorians as they both graduated with a perfect 4.0 GPA.