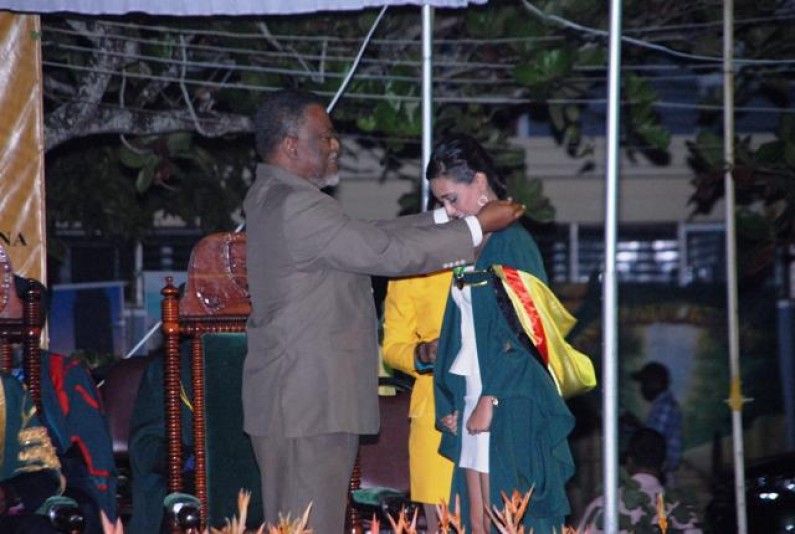 The University of Guyana (UG) Turkeyen Campus on Saturday churned out another batch of 1,376 graduates in various fields at its 47th Convocation ceremony. The event was attended by Prime Minister Samuel Hinds, who is currently performing the functions of President.
This annual event has always been one of grandeur; however, this year, it was even more celebratory as it coincides with the institution's commemoration of its golden jubilee.  UG was established 50 years ago in April 1963; commencing operations in October of that same year with a batch of 164 students.
Delivering the feature address, President of the Fort Valley State University, Florida, Dr. Ivelaw Griffith said that this prestigious ceremony marks the completion of a notable educational journey for all of the graduates, irrespective of whether they have received certificates, diplomas or degrees.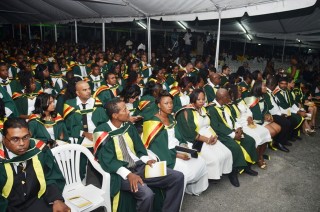 "Your accomplishments are much deserved and the celebratory events that will begin or continue are well-merited. Your dreams have come true, your basis for moving up socio-economic and career ladders has been affirmed and confirmed," he posited.
Dr. Griffith who is a product of the institution, urged the graduates to realise the importance of expressing due gratitude to the support base behind their individual successes.
He spoke of the wisdom of the late Dr. Cheddi Jagan and other visionaries, whose hard-work and dedication made tertiary education a reality in the then British Guiana. Their efforts led from an inaugural class of 164 students in 1963 to an enrolment of over 5,500 in 2013.
He explained that for the maturation of this premier tertiary institution, focus must be placed on economic viability, academic credibility and wider diaspora engagement. He noted that no State university can rely solely on the State; however, the Government does have a critical role to play.
Dr. Griffith also called on the university's administration to seek and access a deeper and wider income platform from individuals and businesses both locally and abroad and not just international agencies and foreign governments.
Special medals and prizes were awarded to graduates who performed outstandingly. The President's Medal for best graduating Bachelor's Degree student was awarded to Eileen Marray (valedictorian); while the Chancellor's Medal was copped by Felina Maikoo, both from the Social Sciences faculty.
Meanwhile, the Prime Minister's medal for the best graduating student with the Degree in Public Management was awarded to Jewel Cheong; while the Pro-Chancellor's medal for best graduating Law student went to Eleanor Luckhoo. (GINA)