Over 70 Guyanese nationals gathered outside the United Nations headquarters on Tuesday morning in support of President David Granger and his government's position against the Venezuela's claim to Guyana's territory.
Chanting the words of Dave Martin's "Not a Blade of Grass", the protesters made known their objections to Venezuela's claim.
Well known Guyanese designer Roger Gary was among the protesters and said he felt it was important to be out in support of Guyana. He told News Source all Guyanese need to support the government's position on the issue.
Another Guyanese, Charles Sugrim said "this was settled long, since 1899 and it is time Venezuela respects Guyana's territory".
"This is settled. We can't go back and we won't go back". Those were the words of Lloyd Hussain, another Guyanese who came out in protest outside the UN headquarters.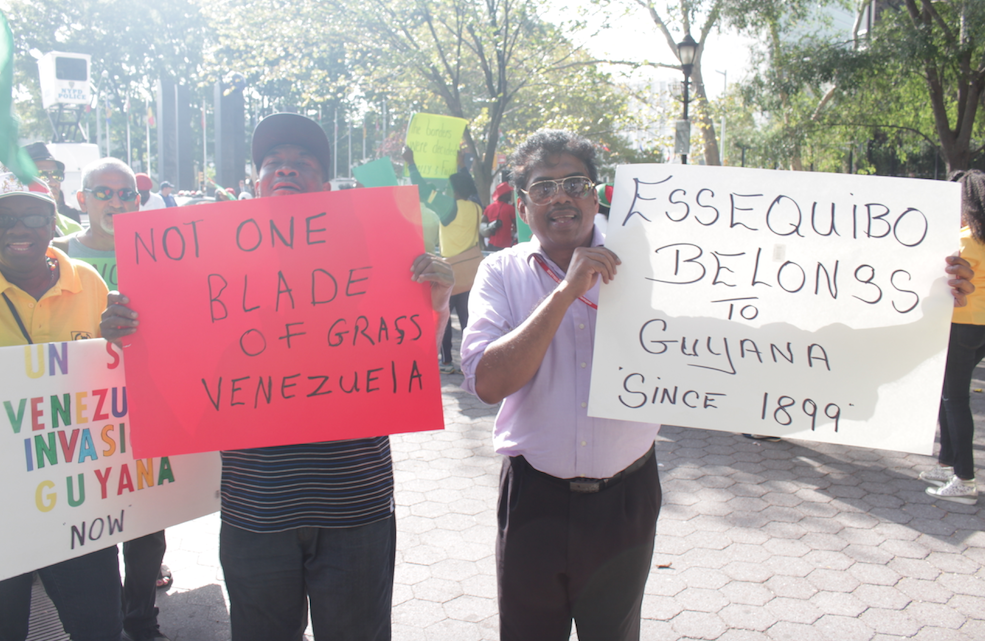 The protesters spent over three hours making their voices known against the aggression of Venezuela. Earlier in the morning, President David Granger delivered his maiden address to the United Nations.
During his address, the President said the United Nations remains our Guyana's best hope, adding that "the United Nations is our best prospect of peace. The United Nations is our best assurance of security for a small state. The United Nations is our strength, support and succour in our time of danger. We pledge Guyana's adherence to the Charter of the United Nations."
He said "Guyana reposes its faith and places its fate in the international system of peace that was promised by the Charter of the United Nations seventy years ago. We want to bring an end to Venezuelan aggression. We want to develop our country, all of our country, in accordance with international law".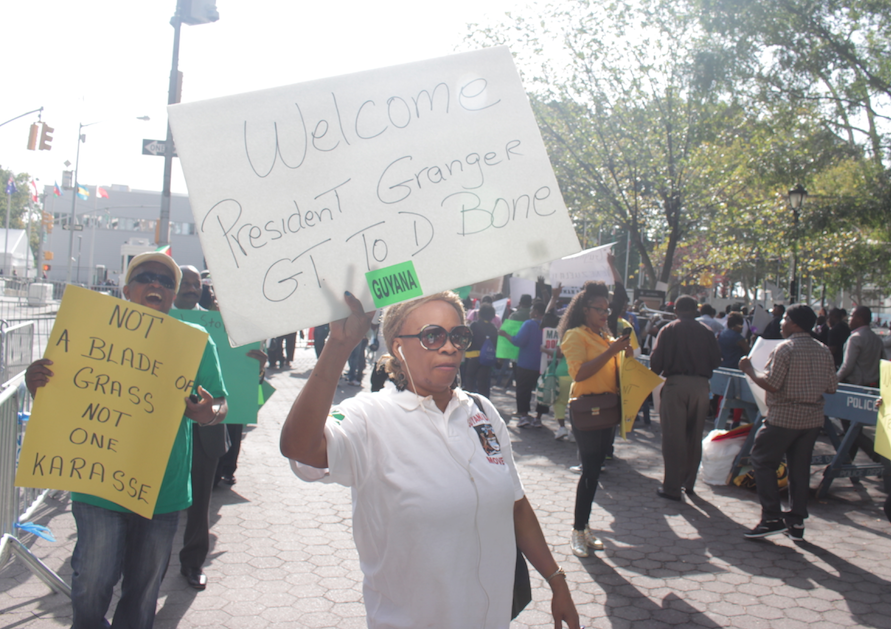 President Granger spoke extensively about the ongoing border controversy with Venezuela. The President also said Venezuela's expansionist ambitions must be curtailed and the neighbouring country must respect the 1899 Tribunal Award that settled the border conflict.
"Venezuela's expansionist ambitions cannot be allowed to unsettle the principle of inviolability of borders, undermine the tenets of international law and unravel borders which have been undisturbed for decades."
Coverage of UN General Assembly compliments of Fly Jamaica and Star Party Rentals.