Despite the widespread outrage on social media, just a handful of students from the University of Guyana participated in a protest action at the Turkeyen Campus on Monday, commencing a week long protest against the University Administration's move to increase tuition fees by 5% increase.
Students were notified of the $8,000 per year increase in tuition last week via email and immediately rejected the move.
The handful of foreign and local students on the picket line said the decision was taken without any proper consultation and prior notice to students.
They say until the situation improves on campus and students are given a healthier environment and functional classrooms, the increase is being rejected.
"Nothing is getting better and until things changes we are refusing to pay the increase," one foreign students said, adding that the increase will cause her to endure hardship when compounded with other expenses.
Final year International Relations student, Delon Murray said the increase came like a thief in the night, via email and in the middle of the semester.
He argued that since the last increase two years ago there have been no improvement in the facilities on campus.
"There are still hot classrooms and poor toilet facilities, Its absurd. What is the justification for increasing the tuition fees at this time?. Why pay more for the same service we have been receiving,"he questioned.
Students said while they understand that UG needs the funds the administration must engage them and explain what is to be expected from the sudden increase.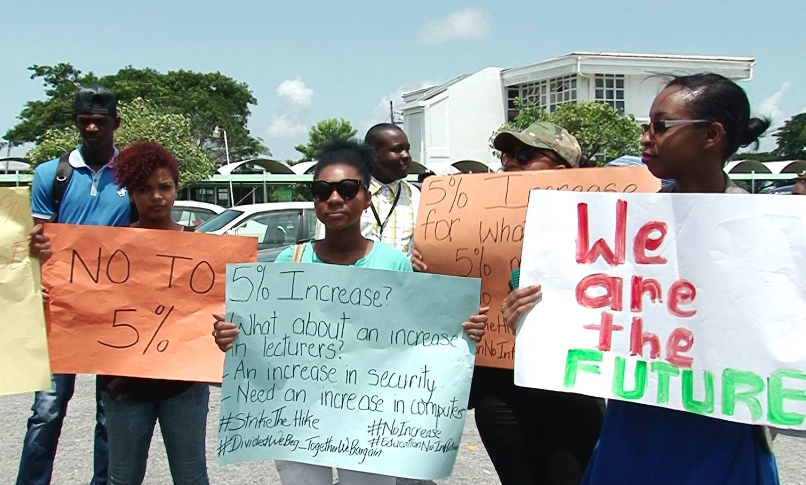 Several students are expected to meet with the Vice Chancellor before the end of the week.
Students said they are not paying the increase until this engagement takes place and satisfactory explanations are given.
While apologizing for any "inconvenience caused" by the decision, the UG administration in the email blast to students last Friday, informed them that "the Finance and General Purposes Committee of the University had approved an annual 5% increase in the tuition fees effective for 2016/2017 and 2017/2018 Academic Years."
The students were also advised that "all invoices will be amended accordingly. The difference, without penalty, becomes due and payable on or before November 15, 2016".