(BBC)  Hurricane Irma has caused considerable damage on French island territories in the Caribbean, and casualties are expected, France's president says.
The impact of Irma on St Martin and St Barts would be "hard and cruel", Emmanuel Macron added.
His overseas affairs minister later confirmed at least two people dead and another two seriously injured.
The category five hurricane, the highest possible level, is now passing over the northern Virgin Islands.
The most powerful storm in a decade, with wind speeds of 295km/h (185mph), is also forecast by the US National Hurricane Center to pass near or just north of Puerto Rico, then near or just north of the coast of the Dominican Republic on Thursday.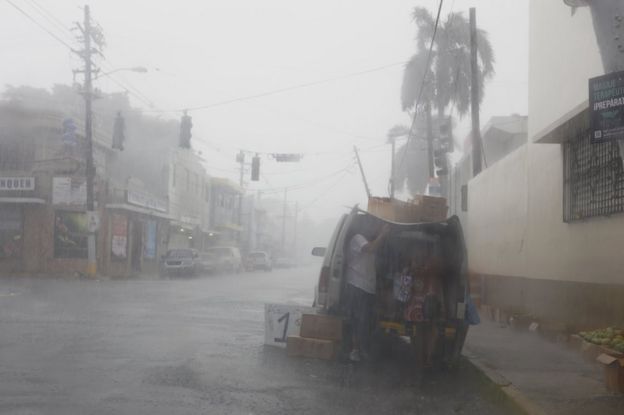 Hurricane Irma first hit Antigua and Barbuda, before moving on to St Martin and Saint Barthélemy – the French holiday destination popularly known as St Barts.
Significant damage is also being reported in the Dutch section of St Martin, known as Sint-Maarten.
French Interior Minister Gérard Collomb said the hurricane had caused major floods, and destroyed buildings, including four of the "most solid" on the island.
Thousands of people have been evacuated from at-risk areas across the Caribbean. Residents have flocked to shops for food, water, and emergency supplies, and airports have closed on several islands which are popular holiday destinations.
In the US, Florida's Key West area has ordered a mandatory evacuation, with landfall expected at the weekend.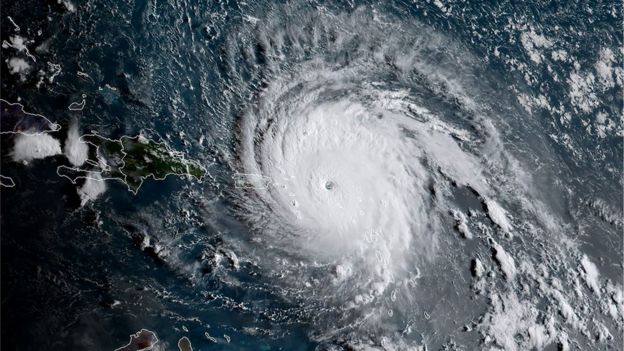 The French government said earlier it was worried about thousands of people who had refused to seek shelter on the islands.
Officials in the French territory of Guadeloupe confirmed the following damage:
On St Barts, the fire brigade station has been flooded with a metre of water, with engines out of service and crews sheltering on an upper floor; there is a total power blackout; many roofs have been blown off
On St Martin, the prefecture building has been partially destroyed, with the prefect (chief officer) and 23 other people sheltering in a secure room; the fire station is out of order; there is a power blackout; several roofs at the police station have been blown off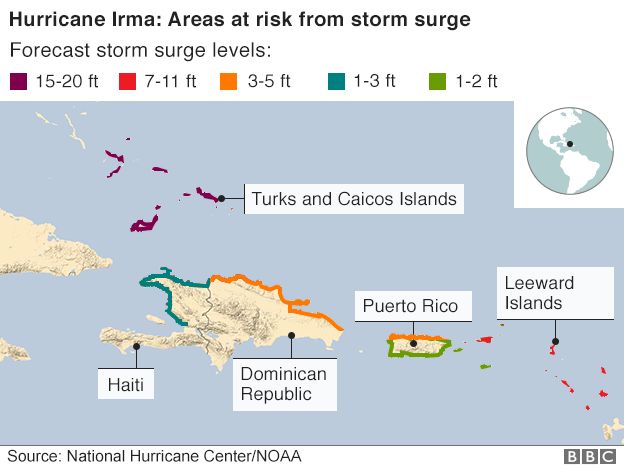 In the Dutch territory, known as Sint-Maarten, the airport has been closed with photos showing debris strewn across the departures area and outside.
There has been a total power blackout, streets are littered with debris, cars are underwater and boats in the ports have been destroyed, Dutch broadcaster NOS reported (in Dutch).
France's interior minister said three emergency teams were being sent to the islands, two from France and one from Guadeloupe.
Confirming the two fatalities in St Martin and St Barts, French Overseas Affairs Minister Annick Girardin said: "Obviously the situation can change very quickly."
The hurricane had caused major flooding in low-lying areas, and authorities had yet to gain access to the worst-hit areas, she added.
Some 40,000 people live in the French part of St Martin, with around the same number estimated to live on the Dutch side. About 9,000 people live on St Barts.