Outgoing Police Commissioner Seelall Persaud today defended his decision to grant himself a firearm license, pointing out that there is precedence and he is not the first outgoing Commissioner to grant himself a firearm license.
"What is it about this Commissioner", he asked, when questioned about the issue just after his farewell parade.
Persaud said he will no longer be pursuing the license for a firearm dealership and therefore it was only the gun license that he approved for himself that has been revoked.
He appeared surprise by the move to revoke the license, saying that "we live in a society today where one set of circumstances are good for one person but not good for the other".
Commissioner Persaud told reporters that he does not intend to challenge the decision by the Public Security Minister to revoke his license.
The Public Security Minister was also in attendance at the event but did not offer a comment to reporters.
The state-owned, Guyana Chronicle broke news this morning that the Police Commissioner had applied to himself for a gun dealership license and firearm license for a number of guns, back in January under a company he owns. He granted himself the licenses.
News Source understands that Persaud did so without consultation with any other Senior Officer. The issue was brought to the attention of the Cabinet recently.
Persaud who heads off on retirement leave today reportedly wrote a letter addressed to himself back in January seeking permission to be granted a license to deal in the trade of firearms under a company called "Professional Outdoor Supplies".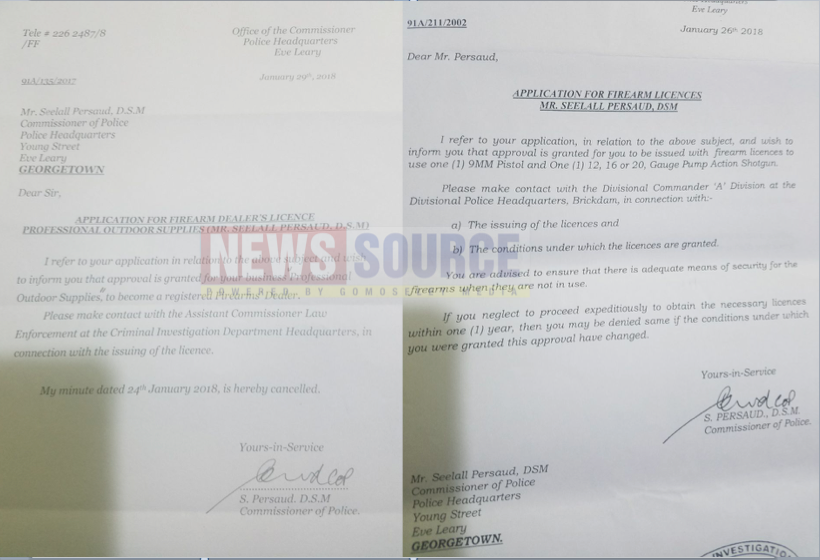 He responded to himself, informing himself that he had granted himself the license for the business.
Government officials were said to be completely shocked by what, one official considered the "unprofessional and unethical" actions by the Commissioner.
The Farewell parade today was full of pomp and ceremony as the different branches of the Police Force offered best wishes to him on his retirement. The Police band played Indian love song, Kuch Kuch Hota Hai and the Frank Sinatra hit, My Way, as their tribute to the Commissioner of Police.