The Guyana Police Force on Saturday released images of the suspect in the August 23, 2014 gunning down of restaurant waitress/cashier Debra Blackman. The incident took place at the  Delicious Chinese Restaurant on Durban Street in Georgetown.
The images released by the Police show a young man dressed in a grey t-shirt with a red and black cap at first standing to the counter then firing a  shot at the waitress.
The woman died on the spot from the gunshot wounds. Police suspect it may have been a robbery case but investigators are surprised that the killer never bothered to hide his face from the several surveillance cameras located on the premises.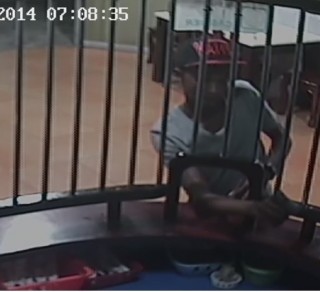 Police investigators have been going through the surveillance video recording from the restaurant also and have been questioning residents in the area.
The Guyana Police Force is asking for anyone with information that may lead to his identification and possible location of the suspect to contact the police on telephone numbers 225-6411, 225-2227, 227-1149, 226-7065, 225-8196, 911, or the nearest police station.
All information will be treated with strict confidence, the Police statement said.
Filed: 6th September, 2014