With only a handful of Government Parliamentarians seated in the Chamber for his presentation, Opposition Leader Bharrat Jagdeo on Friday called for the resignation of two senior ministers over the denial of an existing signing bonus with ExxonMobil.
It was revealed on Friday that there a request for a special account to be set up at the Bank of Guyana for the holding of funds from Exxon since 2016.
But the government has repeatedly denied that there was a signing bonus or there was even an agreement for this bonus.
News Source understands that the Exxon company has indicated to Government that it will offer some financial assistance for Guyana's border case against Venezuela when it reaches the International Court.
Jagdeo pointed out that the government had denied on more than one occasions that there was a request for any bonus from ExxonMobil.
The Opposition Leader referenced newspaper articles in which Finance Minister Winston Jordan and Natural Resources Minister, Raphael Jordan had denied this to be true.
To this end, he said Jordan and Trotman should offer their resignations for either not knowing what was happening in their ministries or deliberating misleading the Guyanese public.
"There must be a motive for hiding the money… because they knew of the signing bonus and categorically denied it," he said.
Jagdeo pointed out that the information was available to the government since September 2016 and said for more than a year the country was kept in the dark.
He pointed to more fundamental issues with the content of the letter which asked for a special account to be set up at the Bank of Guyana.
The Opposition Leader reasoned that the monies should have been placed in the Consolidated Fund because it was revenue the government was receiving.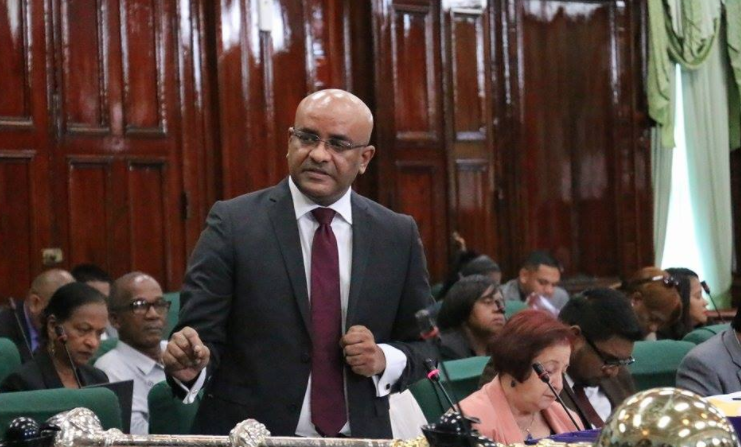 "So there has to be a significant breach of our financial laws… the estimates will be understated by at least $4 billion dollars because it is not recorded and reflected in estimates."
To this end, Jagdeo said the ground has been laid for the opposition to call for the withdrawal of the estimates since it is now fraudulent.
"What we have here is a major scandal where the Government of Guyana took large sums of money, did not tell the people and put it into a special account. What if a few years had passed and then someone can easily draw money from the fund."
Jagdeo said it is becoming clearer that oil proceeds will never benefit Guyana, under the coalition government, but will only benefit a special few.
The Opposition Leader's speech today was interrupted when someone dressed as Santa Claus breached security and made their way into the National Assembly chamber with a gift of a dictionary for him.  The person was eventually removed.