Leading one of the largest Ministerial Trade Missions to ever visit Guyana from Jamaica, the islands's Minister of Industry, Investment and Commerce, Aubyn Hill said the more than 45 businesses that form part of his delegation stand ready to build partnerships with local companies as they seek to cash-in as Guyana experiences unprecedented economic growth.
With Guyana's economy expected to expand by 25.1% this year, having grown by 62.3% in 2022, Senator Hill said, having lived in the Middle East for 21 years, he knows all too well the level of development that is in store for Guyana with the expansion of its Oil and Gas Sector, and Jamaica is open for partnerships.
"I know personally what Guyana is going to mean for the Caribbean Region and Jamaica. While the United States remains our large trading partner, Guyana is the natural economic hinterland for Jamaica. We have great relationships with Guyana; we have always respected Guyana; and same has gone for us, and we are so overjoyed to see a member of CARICOM, a partner that we value and respect growing at the kind of growth rate you are fashioning," Minister Hill told reporters on the side-line of a 'Doing Business Forum' at the Marriott Hotel today.
The Jamaican delegation includes approximately 75 Business Executives from 46 companies.
Those companies include BI Brainz, Bluedot, Caribbean Industrial Systems, ChemqualCo, DFL Importers, Ingenuity, Innovative Systems Limited, Jamaica Broilers Group of Companies, and Solarbuzz among others.
According to the Jamaican Commerce Minister, his delegation includes some of Jamaica's leading businesses.
"So, I wanted the best of Jamaican business, the best of Jamaican ICT, the best of Jamaican contractors, the best of Jamaican banks to be here on the ground floor to make sure we are working with Guyana in partnership, and I want that to be very clear, in partnership with Guyanese, so we can help build out what I say is a wonderful fruit, economic fruit that is being grown, that's why we are here," he said.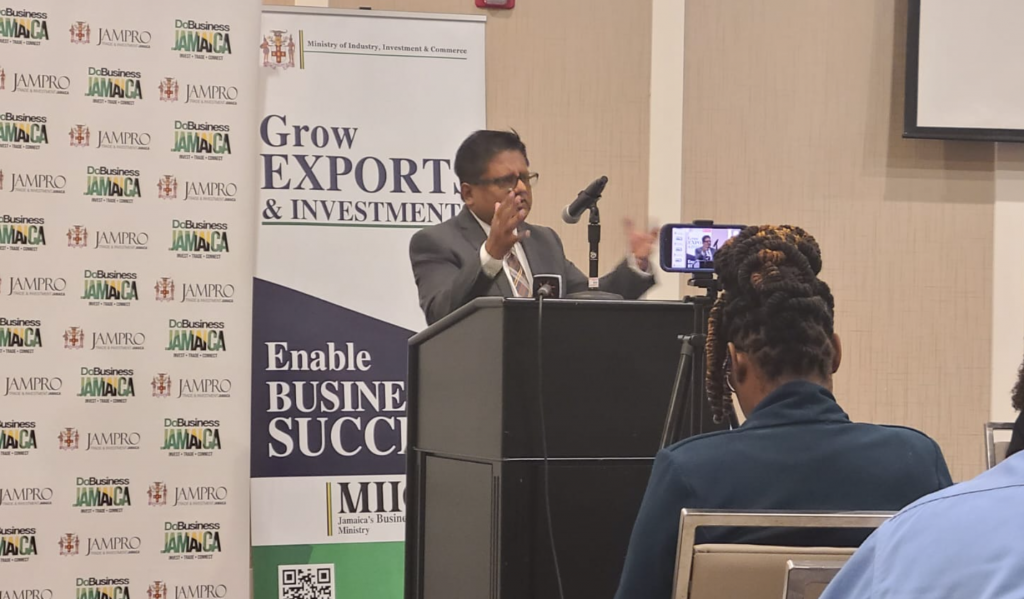 During the course of the four-day visit, Mr. Hill said the delegation is expected to participate in approximately 110 business-to-business meetings as they seek to create partnerships in the areas of construction, energy and ICT, among other areas.
"I brought the people who do concrete ventures, including very seriously, serious amount of concrete. We have eight contractors here, our biggest contractors, they build hospitals, they build schools, they build roads, they build water systems, they build power systems. We have another 11 ICT companies that do everything from telecom to your phone, and we have the biggest food company, producer, in the Caribbean, the Jamaican Broilers Group is here," he explained.
During this morning's meeting, the Jamaican Commerce Minister and his delegation engaged the Minister of Finance, Dr Ashni Singh; Minister of Public Works, Juan Edghill and the Minister of Tourism, Industry and Commerce, Oneidge Walrond.
They looked at opportunities for investments in Guyana, including the opportunities stemming from Guyana's gas-to-shore project and the Amaila Falls hydropower project.
The Jamaican Minister said he is pleased with Guyana's Local Content legislation and procurement system that safeguards the rights of Guyanese, even as the country opens up for business.
"I have lived in the Middle East for a long time, I like the Guyanese content arrangement for government contracts. I believe that citizens have particular rights, and in a democracy those must be met, and I have no problem, having lived in the Middle East where people don't vote, if you had to develop a business in Saudi Arabia or Kuwait when I was there, you have to have a local partner, and I think that is a good principle," Minister Hill said.
In his presentation to the Jamaican delegation, Finance Minister Dr. Ashni Singh not only spoke of the various developmental projects being executed by the Government but also the opportunities that exist for training. He said through the various technical institutes, Guyana is better positioning its human resource to operate in the existing and evolving sectors.
Minister Singh also made it clear that the Government's first obligation is to its people. He said that while Guyana may turn to other countries for various skillsets that are unavailable locally, the Guyana government is keen on providing jobs for Guyanese.