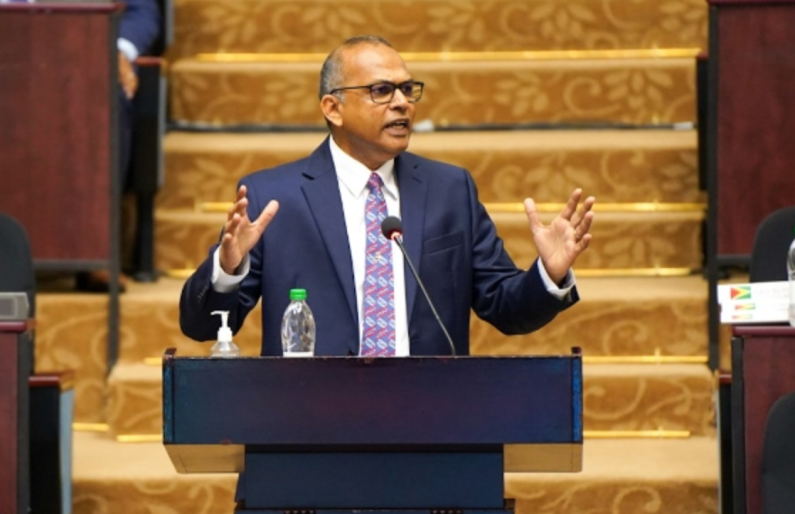 With a total of $84.9 billion set to be injected into the country's public healthcare sector, Minister of Health, Dr Frank Anthony has announced the government's intention to start the training of 1,000 new nurses, as it moves to construct a new hospital at Bartica, and improve healthcare services across the country.
Guyana has been experiencing an exodus of nurses from the public healthcare system, as scores have left the country to take up more lucrative jobs in the United Kingdom and other countries.
Dr. Anthony told the budget debates that the state-of-the-art hospital which will be built in Bartica in Region Seven will complement the six new regional hospitals that will be constructed at Lima Sands in Region Two; De Kinderen in Region Three; Diamond and Enmore in Region Four; Bath in Region Five and No. 75 Village in Region Six. 
Contracts for the six hospitals, which will be built by Sinopharm, were signed in October 2022.
When completed, the six hospitals will each have 75 in-patient beds, modern operating rooms, accident and emergency units, with other modern amenities.
Minister Anthony said as part of Government's vision to transform Guyana's healthcare system into a world-class sector, his Ministry will be collaborating with Mount Sinai Health System to offer high quality primary care, specialized services in cardiology and oncology services at the Georgetown Pubic Hospital.
Meanwhile, reporting on the sector's performance, Minister Anthony told the House that between 2021 and 2022, 250 health centres and health posts were upgraded in all 10 Administrative regions.
Further, he said the Health Ministry collaborated with the Pan American Health Organisation (PAHO) to develop a comprehensive package of services inclusive of 216 interventions at health centres and health posts in the country.  
"Mr Speaker, among these interventions would be maternal and child healthcare, would be working to put better diagnosis for infectious diseases, to also put better diagnosis for chronic non-communicable diseases, to provide immunization for our children across this country and to make sure that we can also provide eye screening [and] dental check-ups…," he detailed.
He said while the Opposition has set out to condemn the 2023 Budget, it is the very coalition that failed to make good on a number of promises it made while in office.