A group of nurses from Linden brought their protests to the city today as they continued to make their objections against the reinstatement of the Linden Hospital's Chief Executive Officer.
The nurses picketed the Ministry of Health this morning, objecting to the Ministry's decision to reinstall the CEO Rudy Small one day after removing him.
Small came under fire from the nurses after telling an online media entity that nurses from his hospital would abandon their posts at night to go sleep with their "sweetman".
Although he later apologised twice over the statement, the Linden nurses have been holding out that he should be replaced and they have been refusing to work under his direction.
The nurses have the full backing of the Guyana Public Service Union. At a press conference today, GPSU officials said the situation at the hospital is untenable and it maintains its position that the CEO must be moved.
"Since it is now obvious that the CEO's conduct is condoned and supported by his superiors, including those at the political level and, it appears as though they are prepared to be ruthless in subjecting our members to the humiliation and a hostile work environment. This double standard and obvious insensitive and uncaring conduct by the regime is inconsistent with the public undertaking made, which would be challenged by the GPSU", the union Vice President Dawn Gardner said.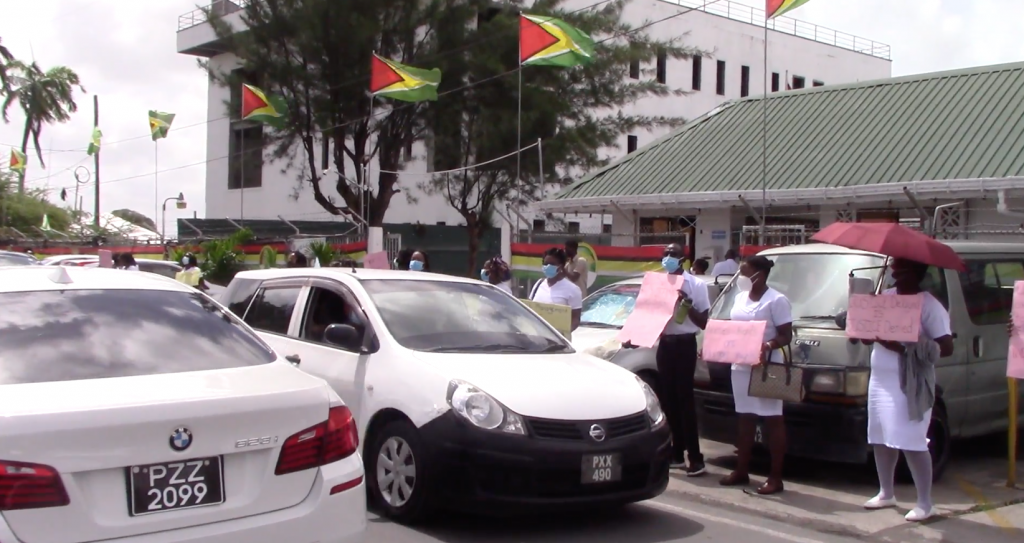 The Union official said the nurses at the Linden hospital have no confidence in the CEO and his apologies are completely rejected.
"I would like to emphasize that the protest actions taken by the nurses are restricted to blocking the CEO from entering their work environment. They scorn him; they have totally lost confidence in him – he is like an infectious disease – they consider him dangerous and toxic to their work environment", the GPSU stated.
The union pointed out that even as the nurses have been protesting the CEO's presence at the hospital, they continue to carry out their jobs as healthcare providers.
According to the Union, "this responsible approach is being taken to ensure that the hospital's services to patients and to the community are not disrupted. This culprit must face consequences for his loose, irresponsible, unethical, unprofessional, and vulgar conduct. The GPSU, in consultation with our attorneys, are exploring legal options with a view to engaging a court of law for redress as it relates to these slanderous remarks".
The union said it is also very concerned about the silence of the government on the issue and its reinstatement of the CEO after his attack on the frontline workers. The GPSU said it is reiterating its call for the CEO to be removed and replaced and for confidence and dignity at the hospital to be restored.