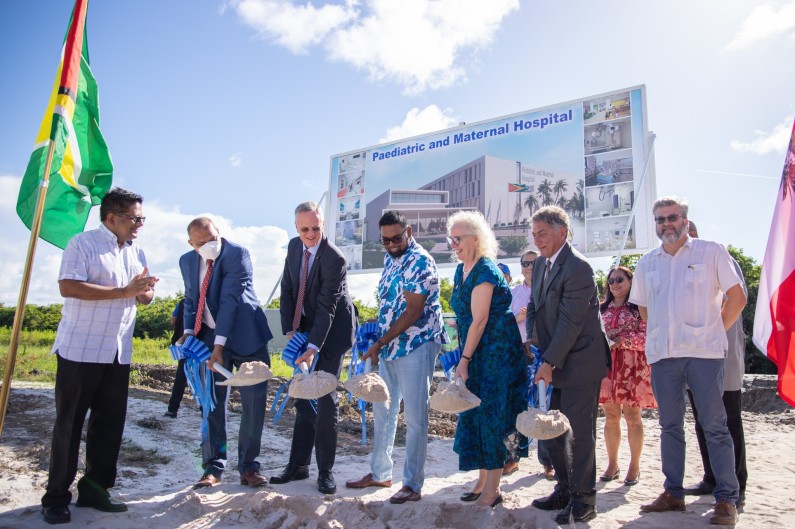 Health Minister Dr. Frank Anthony has promised improved maternal and children care as the country gears up to construct its first Pediatric and Maternal hospital.
Over the weekend, the sod was turned for the €149 million hospital which will be constructed at Goedverwagting, East Coast Demerara.
The aim, Dr. Anthony said, is to create a world-class Health care system.
He acknowledged that the Georgetown Public Hospital which is the premier health care facility that deals with mothers and children has its shortcomings and therefore it is important to have a facility at the highest level to provide the highest level of care.
"There are still many things we cannot do at the Georgetown hospital, especially as it relates to pediatric care and one of the things that we thought was important is that we need to develop a facility, that is going to be level five that is the highest level and offer specialty care to our children if they need it," Dr. Anthony said.
The hospital will be constructed by VAMED, an Austria-based company which is a global provider for hospitals and other facilities in the healthcare sector. The hospital is expected to cover 24,000 square meters with 256 beds, and will be outfitted with both in-and out-patient facilities.
The hospital will also have a modern lab that offers a comprehensive package with the capacity conduct various kinds of test and laboratory services.
"And so the services that we will be able to offer at this hospital would be far advanced. On the maternal section of the things we will be doing is having high-risk mother come here for treatment and so with high-risk others coming here, the chances of them dying from some complication would be much less," the Health Minister has assured.